Tevion Hi-Fi with CD iPod/iPhone Dock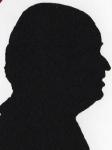 While there are hundreds of iPod/iPhone docks around few products are currently coming to market that are in the hi-fi category. This product currently available in Aldi stores has CD and FM radio as well as the iPod iPhone capability.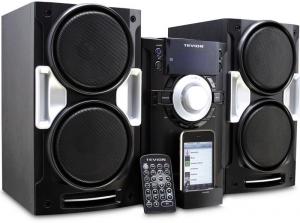 click image to enlarge
The main unit is 26x16x24cm the last figure the depth is with mains and speaker cables inserted. The speakers are slightly bigger at 31x18x23cm. Both the main and speaker units have the same matt black colour.
The speaker faces have two wire (effect) grills and the rear has a small indent and the speaker wires are hard wired. The only change from the matt black are two small silver grey areas between the speaker grills that match with a circular knob just above the central area of the main unit. The overall units are not heavy and would fit on a decent shelf.
There is a small 6.5x2.5cm display, sixteen button and a knob as well as the touch out iPod or iPhone dock near the base. Most functions can be duplicated on the 23 button remote control. It's the clock battery type (battery supplied). The remote is 9.5x5x.5cm.
The rear of the unit has connections grouped near the base, four crocodile type clips for the speaker wires, DC power input, external audio input (MP3 player), composite video out and hardwired FM radio wire aerial, this is 1metre long. The DC lead is 1.8metres long. The speaker leads are 1.6 metres each meaning that the possible stretch is something like 3 metres from left to right.
There is a twelve page user guide that should answer any questions and also explain the controls, however on first switch on I would have it nearby as you need to set the clock and doing it one step at a time causes a timeout so you need to know which buttons to press to get as far as setting 12/24 hours and then the button to press to set the hour, the minute setting will allow you a little more leeway but this is a once only job if you use standby.
The CD is on the top of the unit and is one of the push down lids to make it spring open when fully open you would need 10cm extra clearance above than the figure stated above.
There is a variable sleep timer but no alarm so while you can listen to any of the units in sleep mode you cannot use it to wake you up. As the clock needs constant power (even in standby mode) this is perhaps a good thing. There is a rather strange Timer function that seems to work in the reverse way that is to turn things off.
For a wire aerial FM radio reception was quite good, as with most FM you will need to tune using up and down either from the top or bottom of the band, there are however presets available so it's a one time task to save your favourites.
The Video output allows you to use another external device to view output from your iPod or iPhone while using the speakers of the hi-fi. The 3.5 jack allows Auxiliary input from other devices with 3.5mm jack connection.
The CD display consists only of track number and it would have been nice to have say elapsed track time or total elapsed CD time. It is possible to program the unit to play up to twenty tracks in any order you wish to do so.
Sound quality from the unit's speakers was reasonable for a small unit and would be ideal in a small flat or perhaps a kitchen or bedroom.
This unit is currently on special offer at Aldi, it is only available in their stores at £59.99. Further details are on the link below, this offer started yesterday so if you want it do not delay.
http://www.aldi.co.uk/uk/html/offers/special_buys3_22078.htm?WT.mc_id=2011-11-25-11-09
Enter your postcode in the 'Store Locator' link on their Home page to find your nearest store.