Clone Hard Disc and more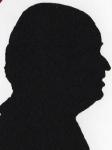 Your PC or Laptop is working fine with one exception you are rapidly running out of hard disc space. Simple answer get a larger hard disc but this means starting again from scratch reinstalling everything again, or does it?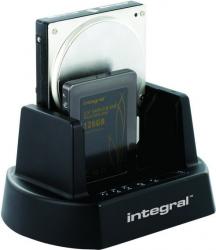 click image to enlarge
With a desktop PC you probably have another drive bay but try as you might Windows still prefers to install everything on drive 'C'. With a Laptop or Notebook you probably do not have room to install a second hard disc.
The solution could be to Clone your hard disc onto another larger drive. In theory anyway such software products exist and used correctly they do work, or course you would still need that second drive bay to make this work.
The solution I am looking at here is from Integral called a Hard Drive Copy Station that boasts 'one button copy'.
The only thing required is that the drive you are copying to is the same size or larger than the original. You remove your hard disc from your PC or Laptop and insert it in the machine bay marked '1 Original/Master' then add your new drive in the bay marked '2 Copy'. Plug the unit into the mains and then press the button marked copy 1>2.
The copying unit is 17x13x10cm. The front has five LEDs in a row and the click down copy button. The first LED shows power and the other four show progress through the whole copy process 25%, 50%, 75% and 100% when finished.
You then insert the new larger hard disc into your PC or Laptop and Windows will boot just as it did before with the old unit. Once satisfied that all works as it should (belt, braces and safety pin) you can then reformat the original drive and either use it as a slave drive in the PC or leave it in the Copy Station and connect it to your PC or Laptop with a USB2 or eSATA lead and use it as an external drive with the Copy Station now being used as a slave.
This works with both 2.5 and 3.5incg eSATA drives. It should also work with older EIDE drives but you need a cable toggle to connect your old drive into the 'Original/Master' slot. These I am told are available but I have not so far managed to find one. Among the places I tried was Maplins who said they did them but have been out of stock recently.
The only instructions are on the box but they are quite clear and if they are not clear to you then may I suggest that this is not the product for you. You will need a small screwdriver to remove the hard drive from your PC and to reattach the new drive afterwards. If this process worries you then let an expert do it all for you. As with all forays into a PC or Notebook earth yourself first to avoid static.
You get a whole range of cables (apart from EIDE to eSATA) in the box they are. UK power lead, European power lead; Power brick; USB 2 cable and eSATA to eSATA cable. I see there should also be a Quick Start guide.
I have not given any times as these will vary according to the size of hard disc and the complexity of the files on it, what you get is a clone and that means if a file is stored in several parts then that is what you will get.
Assuming your original drive is not squealing and wailing its last then I might suggest you try clearing out and defragmenting the drive first as this will normally improve the speed of access of course having more space will also mean that the whole process of Windows will perform better as Windows favourite things are lots of memory and lots of space, give it both and you will find a faster quieter PC and almost certainly less problems.
The Integral Hard Drive Copy Station is available from the link below at £33.99
http://www.amazon.co.uk/gp/product/B003OA5292?ie=UTF8&tag=gadge0a-21&linkCode=as2&camp=1634
http://www.integral-storage.com/product/hard-drive-copy-station