Trust Slimline Widescreen Tablet

Although using a pen or pencil is much more natural than using a mouse, years of using a computer have conditioned us otherwise. The Trust Slimline Widescreen Tablet from Zoombits.com redresses the balance especially for freehand drawing and similar applications.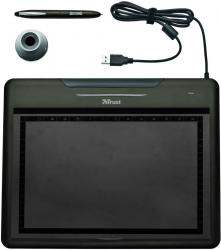 click image to enlarge
The tablet, which is low profile and thus easy to use without hand or wrist strain, occupies 32 x 25 cm of desk space and has an active area of 25 x 15 cm. Although this aspect ratio is more appropriate for use with wide screen displays, it also works well with older 4:3 displays.
It comes with a 2-button pen, which can be used equally well in either hand, that operates wirelessly so one's hand movements are not hampered by a trailing cable. The pen, which comes with a convenient desk stand, doesn't need to be in contact with the surface of the tablet and can be up to about 5mm above it so it can be used for tracing in addition to normal drawing or photo editing as well as using it as an alternative to a conventional mouse.
The tablet is finished in a stylish black and greys with function soft keys around the top and both sides. The thirteen keys across the top are marked Text Input, Open, Save, Print etc. However, the grey print on a black background could be very much easier to read. The supplied MacroKey Manager enables the user to reallocate key functions. However, operating under Win XP, the eight soft keys on either side were greyed out.
I have not been able to check the claim that it fully supports Windows 7 & Vista advanced tablet functions, such as 1024-step pen pressure sensitivity, converting handwriting into digital text and office document notes and the extra programmable soft buttons.
As well as the supplied with Artweaver 0.5 graphics software I found it worked well with some of the better known graphics packages as well as standard office applications such as MS Word.
Moving the stylus from one extreme to the other of the table's active area, results in the cursor moving in unison across the whole face of the monitor. While this is ideal for straightforward work, by applying a suitably large degree of Zoom in the application, the resultant magnification enables one to get far better fine movement control.
Overall, there must be a balance between, on the one hand, ease of use & control and the amount of desktop real estate a graphics tablet occupies. I feel that this tablet is a sensible compromise for the majority of users who will, in effect, only use it part of the time and then, when not in use, want to stand it on edge out of the way and yet still convenient to hand.
It is available from zoombits.com for £71.31 for a single unit with two being offered for £122.16. This saving of over £20 could well be useful if you want to give one as a present in addition to buying one for your own use.