MSI X-Slim X-340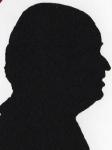 Review controls
Having just reviewed a rather nice Vista PC with a 1.4GHz Intel processor the next unit in has exactly the same processor and memory configuration, this unit also has a very thin screen and is also quite nice and light.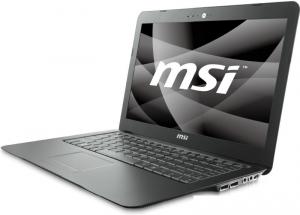 click image to enlarge
The MSI X-Slim X-340 measures 33x22.5x1.5cm and weights less than 1.3kilos. It is black, matt on the base and keyboard surround, but rather strangely fingermark showing shiny black for the screen surround and lid.
It has an 87key keyboard with all but the top (function keys) full size. The only things behind the keyboard are the hinges with the power on button on the top right edge. The trackpad is in front of the keyboard 10.5cm from the left and 14cm from the right and there is around a centimetre clear in front of the 8x5cm trackpad.
The left side has VGA, Ethernet and HDMI as well as a card slot. The front edge has a line of eight pinhole LED's. The right side A/C input, audio sockets for microphone and earbuds and two USB2 ports. The back has nothing as the screen surround goes over it by around 1.5cm.
The screen is 29.5x17cm giving the notional 13.4inch diagonal measurement, the screen can display up to 1366x768. The Windows experience rating is 3.4. The set of figures are processor 3.6, RAM 4.9, Graphics 3.4, Gaming Graphics 3.5 and hard disc 5.7.
My unit had a 290GB hard disc split very strangely 43.9GB for 'C' and 246GB for 'D'. I assume that is how the hard drive performs so well but while it is good to have a fair size data drive, a lot of applications insist on installing on the 'C' drive.
My unit had Windows Vista Home and a trial of Microsoft Office and very little else. I never go online without at least anti-virus installed so I loaded a copy of the free AVG software.
Shutdown was a very acceptable 10seconds while bootup was an okay 90seconds. Recharge (system off) from only 10% (when it really complains a lot) to fully charged was a tad over two hours so from empty would be under two hours and twenty minutes.
During my tests I managed just four hours and this with Wireless and Bluetooth off and very little Internet (via Ethernet) usage. More alarmingly was the 20% battery loss when switched off for 36 hours. I did get to four and half hours when used solidly from fully charged till it was shouting very much at around 4% battery remaining.
Just like the previous small notebook reviewed this came with no optical drive (that was I was told provided with the other unit) that managed a very acceptable eight hours battery life.
I am assuming this unit has done the rounds and therefore the battery may have been somewhat abused but I can only tell you the figures I achieved.
Both the previous notebook (19-10-09) and this did make Vista seem an almost acceptable operating system, not quite sure how as the only other 2GB system I reviewed in the spring ran very poorly, so either Vista has reduced its demands or manufacturers have managed to tweak their hardware to run better with it, this might be down to the 1.4GHz Intel Core 2 Solo processor that both the last notebook and this have in common.
Doing my Internet searches found the MSI X-Slim X340 at a best price of £718 including free delivery from the first link below. They also do one in white for £8 less, both include a padded slipcase and it says a mouse.
http://www.amazon.co.uk/gp/product/B002B1R33I?ie=UTF8&tag=gadge0a-21&linkCode=as2&camp=1634
http://www.msimobile.com/level3_productpage.aspx?cid=8&id=105 this is the USA site as UK do not list it.