Gaming with no wires

Published Nov 12, 2007 Author
petew
Review controls
The Thrustmaster Run'N'Drive is a wireless game controller for the Sony PS/2, PS/3 and IBM PC - an ideal alternative to the wired variety if you're fed up with untangling wires - or just want to get further away from the screen.
Buy Now
Thrustmaster Run 'N' Drive
only £24.99 from Game
(including UK delivery)


£27.99 from Amazon
(including UK delivery)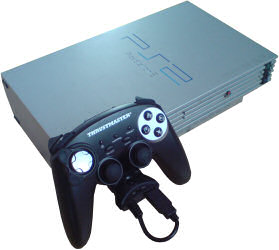 To look at this controller is similar to a standard PS/2 controller and includes all the standard gaming buttons one would expect. For PS/2 users two vibrating motors are included - with the option to switch them off to save battery. I found the basic controller pretty comfortable to hold - the two 'wings' are much longer than those on a standard PS/2 controller. Note though that my hands are fairly small and comfort is something of a subjective thing!
In addition to the standard controls there is a 'progressive optical wheel' (quite a mouthful!) but it's this that gives this controller it's Run'N'Drive credentials. To you and me this is a small analogue control the wraps around the left-hand control pad. From it's central rest position it rotates around 45 degrees in either direction and is effectively a little self-centering steering wheel! To cater for different games (and probably driving styles) this little wheel has two sensitivity settings.
A steering wheel is an obvious excuse to while away far too much time on a driving game - all in the name of bringing you all some real feedback! In this case I took a tour around a few Grand Tourismo circuits on the PS/2.
The verdict? Well - it takes a little getting used to - the temptation is simply to push the wheel fully one way or another, effectively using it as a two way switch, possibly because of the limited range. After a while though and a little practice things get easier and it's possible to convince your thumb to understand the amount of movement required. The wheel soon becomes second nature.
The controller communicates wirelessly with your chosen game machine via a provided 'dongle' that provides a USB2 lead for connection to PC and Sony PS/3, and a PS/2 'gameport' connector. If you're connecting to a PS/2 then the USB lead tidily clips into a slot on the dongle itself. The wireless aspect may be your main reason for getting this controller if you're frustrated with untangling wires before each game. Range is claimed to be around 10m - and I certainly had no problems getting far enough away that I needed a bigger screen.
A blue light on the dongle flashes when the controller is out of range - and is solid when connection is established.
The control pad is powered from two AAA batteries. To conserve energy the game pad switches itself of after a short period of inactivity.
On a PC running XP and Vista you won't need any additional software. Simply plug the USB lead into your computer and the software will automagically load. While I had no PC games available to test, I did plug the device into my latest PC and everything worked fine, including the ability to test buttons in the Windows control panel.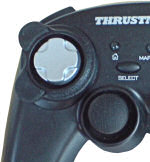 "progressive optical wheel"
The Thrustmaster Run'N'Drive is packaged in another of these hermetically sealed plastic cartons that require scissors to open and then, frustratingly, the only thing to do with the packaging is to bin it. In the shop this also generally means you don't have much of a chance to try before buying.
Once into the packaging you'll find : the controller itself; the wireless 'dongle' for your games machine and an instruction manual. The manual gives some basic information on how to configure the product for a specific console. Only 14 pages of the manual are English however.
As well as being usable out of the box, this control provides a lot of programmability to tailor it to your own requirements, or to your own games. More control than you're probably ever going to need! The settings you choose can then be stored in internal non-volatile memory - so they aren't lost when the batteries fade.
The only part of the control I had difficulty with was the right-hand four-way control which I found awkward to use with the analogue wheel a little in the way of my thumb.
Searching the Internet - the best price I found was Game selling the Thrustmaster Run'N'Drive for £24.99 including shipping. Amazon were second at £27.99, again including shipping.