Kensington Share Central 5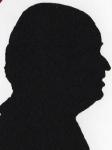 Review controls
If you have two computers why should you need to double up on peripherals? Here I am looking at a device that allows you to connect two the devices from two adjacent computers and use whatever they may be as if they are tied to one PC.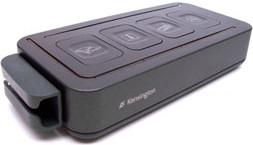 The Share Central 5 box is 17x11x3.5cm it can sit anywhere between the two PC's or it has two screw holes in its rear to allow wall mounting.
The top (or front depending on how you have it) has four push buttons each relating to a peripheral but it is possible to use it in Auto mode that can save the effort of pushing a button. The rear has a white USB (the type that goes to a peripheral lead supplied) five USB sockets with its power block adapter after three and finally an orange USB (the type that goes to a peripheral lead supplied). These leads go to the respective PC's or notebooks you are connecting. The white plugged lead is longer at 1.8 metres and the orange plugged one is half that length. With the exception of the Auto/Manual slider on the bottom that is all the controls.
It comes with a CD but even without installing it you have a switch box that allows up to four peripherals to be linked to two PC's. The illustrations show a printer, external hard drive, scanner and keyboard/mouse. But with the first three sockets it could be any peripheral.
Of course you need to install the software for the peripherals on both computers and it could be best to install this via a dedicated USB lead and only attach the orange/white ones once the installation is completed.
I found this Kensington device very useful when I recently reviewed a new notebook/tablet PC that amazingly had only a single USB port and no CD/DVD drive. This for instance enabled me to install software that otherwise would have had to be transferred to another medium first.
You can easily see which PC has current control of which item as there is a bar LED on each side of each device and this lights to show which is in control. However with the printer it uses automatic sharing technology (via software) that can avoid having to press the button for this device.
With front mounted USB ports on most modern PC's this negates the likely back problems while you crawl behind to remove a USB lead but for the less computer literate it can be a lot easier to press an icon than to remove the correct USB lead.
Some may have noticed I said five ports on the unit with only four buttons as this allows keyboard and mouse to work on one button. For anyone travelling with a notebook this means connecting only the white or orange USB plug and then you have access to all the peripherals in one go. So no more sending something to the printer and wondering why it does not respond.
While a standard USB could manually solve the same problems you would have to make sure everything was switched to that PC and there will be times when some devices will need to be with one PC and others with the other so this is far easier to use.
While one of the icons says scanner and the majority of users now have an All In One device it works just as well with an external CD/DVD plugged into that point and with a lot of smaller notebooks (netbooks) coming without one it becomes useful, not least in the scenario I gave when trying to install software from a CD onto a unit with a single USB port as of course at some stage during the install you need to attach the peripheral.
The second link has a video showing the device in action. Doing my internet searches found the Kensington ShareCentral 5 at a best price of £69.99 including free delivery $41.99 including free delivery €95,69 from the first link below.
http://www.amazon.co.uk/gp/product/B0014IYZQW?ie=UTF8&tag=gadge0a-21&linkCode=as2&camp=1634
http://www.amazon.com/gp/product/B0014IYZQW?ie=UTF8&tag=gadge0a5-20&linkCode=as2&camp=1789
http://www.amazon.fr/gp/product/B0014IYZQW?ie=UTF8&tag=gadge04-21&linkCode=as2&camp=1642