Clickfree Automatic Backup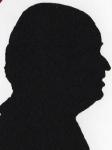 Backups are boring, backups are annoying, backups are a pain the *%$#. However once you have had a hard disc crash and spent ages reinstalling your applications only to realise that the most important thing – your data – is no more then you start to think backups are ESSENTIAL.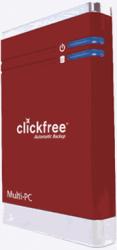 Most backup programs require the average user to know things and probably they do not, so guess what they do not do backups. In a business, backups are forced but normally a expert installs the software and in all probability the backup takes place when you are not there.
Any Soho or home user has to be their own 'expert' so when a package comes along that claims to be 'Clickfree' then it needs checking out. This company supply their software on an external hard disc on DVD's or even a dongle enabling you to use your own media. Here I am looking at the first mentioned. There are several sizes of small USB drives I was sent the 250GB version.
It is 11.5x7x1.8cm and it weights only 165grams, my drive was maroon with the front and back both chromed. The rear has entry point for the supplied USB lead. The top has two blue bar LED's and that's it.
Connect it to a USB port on your PC and sit back a small amount of the software is installed on your PC (in my case is was 37MB) and after a little while you are met with a front end saying backup will commence in 'x' seconds. By default a whole range of file types will be backed up, should you wish to add others you can and should you not want all the choices just untick the boxes not required.
While this is a USB device my first test was a machine that has only USB 1.1 drives (so the backup will be a lot slower). I left six types ticked. E-Mail, Favourites, Music, Photos, Text and Videos. It started work and as each file was backed up it showed on the screen there is a bar showing the total progress.
One hour and 38 minutes later I had backed up 5.460 Photos, 178 Music Files, 71 Email Files (this figure is confusing because it states the folders not the files), 2,249 Text Files, 65 Videos and 506 Favourite sites. The total space taken on the backup drive was 20,660MB.
One week later the next backup took 11 minutes this of course was only the new and changed files. Two weeks on and 7 minutes and 110 items were added.
My next task was to backup a PC that has USB2 drives so the whole thing is a great deal quicker. As you already have a backup it assumes that you want to restore but select the options tab and state new backup and it finds the PC's name and you can again select the file types I again selected the same options chosen for the first machine.
This machine has some larger .WAV files but far fewer Email files; it also has some large .AVI files. A total of 3856 files were copied in 46 minutes a total of 9979MB.
Of course you never really know if any backup software works until you have a disaster such as a hard disc crash. Remember I only backed up data files, you will still need your installation discs and with more and more software being sold via downloads you do make a backup CD/DVD when you download it don't you? The other thing you will probably need is your serial numbers and a good idea is to create a text file with it and add that to the CD so if the worst happens you have the application files while Clickfree has the data.
The data is backed up on the hard disc in the same file structure so if a program puts the data four folders deep that is where Clickfree stores it. There is a small four language user guide but this says very little, should you need any advice – unlikely – then the bottom of the on screen Window has a link to the companies help site.
Doing my Internet searches found the Clickfree Automatic Backup 250GB at a best price of £114.99 including free delivery from the first link below. They also do the 120GB version for £73.99 and the 160GB one for £99.99.
http://www.amazon.co.uk/gp/product/B001JIBOLQ?ie=UTF8&tag=gadge0a-21&linkCode=as2&camp=1634