Setting the right colours with Spyder 3 Pro

If you use the Web, and even if you are not particularly interested in digital photography (but vital if you are), it is important that you calibrate your monitor to ensure that it displays colours correctly. You can do this painlessly with the DataColor Spyder 3 Pro.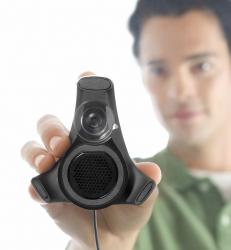 click image to enlarge
How do you know whether your monitor is displaying colours correctly? In general you don't. However, as the colours of images on my two LCD panels were noticeably different, I knew that one (or even both) was wrong. This was reinforced by the fact that some Web downloads that could be read clearly on one screen were virtually unreadable on the other with text just merging into the background.
Correct colours are important. If calibration is out, pages which may have looked right on the Web designer's screen will not get a second glance if users cannot read them easily. Furthermore, anyone who has serious aspirations with digital photography needs to have good and reliably starting point before working on their images so as to minimise the trial and error of test prints before achieving the results they want.
The Spyder 3 Pro is a colorimeter that works with both CRT and LCD displays on both PCs and Macs to measure the colours of the display, with a series of intensity step, in order to provide an ICC (International Color Consortium) profile for your display.
During software installation a number of questions, such as whether the monitor is a CRT or LCD and what is the required White Point, must be answered (there is help and guidance). Then, once the software has been installed, the sensor unit is plugged into one of the (powered) USB ports on the computer and then placed roughly at the centre of the monitor's screen and the test cycle initiated.
On completion of the cycle, during which the sensor measures the actual intensity of series of different levels of grey, red, green and blue a profile is created which will be used by the computer card when the machine is next rebooted. One caveat is that where there is only one graphics card with two monitors connected, there can only be one profile so you have to decide which monitor will be calibrated and be the "reference" one.
Among the advanced features of the Spyder 3 is the facility to take ambient light into account as this will have an effect on how you perceive the on-screen image. By the way, as the calibration of monitors drift with time it is necessary to recalibrate at intervals.
Keen photographers, having got their perfect image on screen, will then need to take into account the combination of printer, ink and media to reproduce it on paper. By using a printer vendor's own range of photo papers, the appropriate printer profile to achieve this result is automatically loaded when selecting a particular photo paper.
In addition, specialist photo paper suppliers can often provide profiles to enable users to achieve best results when using their products. For example, Harman Technology (www.harman-inkjet.com) offers free profiles for both PC and Mac systems for a number of popular printers from Canon, Epson and HP but warns that they "will only be effective if the correct combination of printer, ink and media are selected".
The Spyder 3 Pro meets a need that many people don't really know that they have. It is a very useful tool for those who have a need to improve their colour management. In view of the cost of quality photo paper and ink, it could also pay for itself quite rapidly. The best price I've been able to find is £99.99 incl. VAT from www.dpsb.co.uk. They also have the earlier Spyder 2 Express at £69.99. The major difference being that this does not have the ambient light compensation.