CoolFan from Port Designs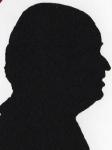 Notebooks often tend to overheat and when they are used on the lap that heat can go to places best not mentioned before the watershed.
This is a simple looking device that just sits under the notebook, it's fan is all but silent and as it takes the warm air away from the notebook then that should run more efficiently.
It is 25.5x28x2cm and weights not a lot. The figures given are the maximum as it is heavily waisted and only 14cm in the centre. There is a 7cm area in the centre of the centre and this is powered by a 45cm long USB lead that fits into the base of the unit and can then be powered by any USB port on the notebook.
As an aside I am writing this on a very warm afternoon with the unit vertical beside me and plugged into a USB port on my desktop and a lovely cool stream is being blown over my keyboard and hands and then bouncing up to my face so I am several degrees cooler than I would otherwise be.
Port Designs are better known for their laptop bags but if global warming continues then anything that cools is certain to be a winner.
If you use your notebook as a 'Desktop Replacement then it can sit under it and even provide the tilt to allow the keyboard to have rake. However most laptops are still used on the lap and there is an area in the lap area that is best not to get overheated in the male of the species. I am certainly not going to be more specific just believe me that this area should not become overheated by notebooks.
I have used this for several hours with a notebook running on batteries and did not notice a great deal of extra battery use, certainly on mains power no detriment should be found.
In the vertical position (being used to cool the hands and face) there is a slight hum but not at a pitch to be annoying. When in it's more normal horizontal position it seems quieter but then it is under a notebook and that would muffle the output so it would appear all but silent.
I see from reading the .PDF file from the website link below that the fan is guaranteed for 25,000 hours and that is stated to be three years of continuous use.
I have had the Coolfan running beside my keyboard for an hour as I put the finishing touches to this article and the temperature is two degrees lower than it was an hour ago and I can assure you that it is no cooler outside, in fact at 16.30 on a clear afternoon it is probably warmer.
The unit is black apart from the top face that is blue and there are two rubberised strips on the top and bottom edges of the top face to aid adhesion of the notebook.
This is a simple product and a look at their website will show this is one of four designs. The likely price for the Port Designs CoolFan is around £22.99
http://www.portdesigns.com/accueil.cfm?langue=2 then click products, then E.O.S and then CoolFan.