A Belkin Pair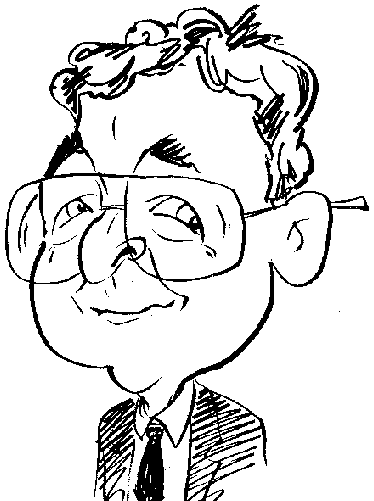 This next review brings together a couple of Belkin products that offer to provide some assistance in protecting your home.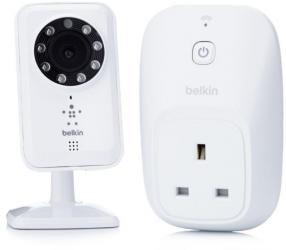 click image to enlarge
The Belkin Netcam, as its title might imply, allows you to keep a check on what is occurring within an area of your home when you are absent. With my review unit being supplied by QVC, the kit consists of a Wi-Fi camera with night vision, power lead, screws and rawl plugs for wall mounting, plus a Quick Install Guide. You will also need an Android or iOS smartphone along with a Wi-Fi router for Internet connection.
The Netcam, decked out in white, comes attached to a mounting stand that can allow the camera to be free-standing on an appropriate surface or wall-mounted. In its free-standing mode, the unit has dimensions of 124 x 60 x 15mm (H x W x D). A ball-and-socket arrangement provides the means of adjusting the camera's positioning so that its wide angle lens can capture what is happening within its field of vision. The lens has a focal length of 3.1mm at F2.6 while a ring of infrared lights surrounding the lens add a night vision feature to the Netcam.
According to the packaging encasing this product, the set-up procedure is meant to be easy. However my experiences failed to live up to the promise and expectations. The supplied instructions, combining text and illustration in a variety of languages, stated that you should make sure a switch on the rear of the camera should be placed in setup mode but failed to indicate which position was for setup (actually it is the one identified by a cog wheel). You then need to download the appropriate iOS or Android app before linking your smartphone to the camera's Wi-Fi signal.
At this point the camera is meant to identify available Wi-Fi networks so that you can select your LAN and connect to the Internet. However I had to work through this stage four times, on each occasion starting from the beginning and following the instructions before a connection was established and I was able to complete the process by switching the camera to video mode. Four attempts hardly qualify as an easy setup to my mind.

You will need to set up a Netcam account in order to access the content from your camera. This account will require a username, password and email address. You can then give your camera an appropriate name or description so that it can easily be identified if you have multiple cameras in your setup.
With the setup process completed you can view the content from your Netcam via the app on your smartphone or from a computer by pointing your browser at http://www.belkin.com/netcam and entering your username and password for a live feed. Image quality is reasonable using either method although captured movement can cause some fuzziness but this can be reduced by adjusting the frame rate. When I viewed content on a smartphone, I was locked into landscape orientation while viewing from a computer gave the option of switching between windowed or full screen modes. Options are available to capture still images and video clips on a smartphone but not from a computer.
Fairly soon after I got this product up and running, I was informed that a firmware update was available. Taking a chance, I opted to go ahead with the update which promised to take around five minutes. The update may have only been five minutes but I was left with a Netcam that needed to be re-installed. Again I had the same situation as it took several attempts before the Netcam was able to provide a list of available Wi-Fi networks so that the Netcam could go online and complete the setup process.
The Netcam does allow the user to make a number of adjustments to the way it operates. Probably the most important aspect is turning on the email notification option whereby you are informed of any issues requiring the detection of motion within the camera's field of vision. However be aware, and probably the reason was this feature is turned off by default, your inbox come become clogged up with messages especially if you have a household pet who likes to explore. Other adjustable settings include a slider bar for image quality, screen size, frames per second up to a maximum of 30 and whether audio is turned on or off.
By default the Netcam does not offer to save any content in the Cloud. This is a paid for service from iSecurity+, although you can take advantage of a 30-day trial to see if it suits your needs. This service is available on a monthly basis costing $5.99 or on an annual basis priced at $59.99. In both cases your content will be stored for up to 14 days.
Apart from the problems I encountered with the setting up of this product, the Netcam can provide a valuable service. You will need to take out a subscription to get the full value of Cloud storage that other packages include as standard. The Netcam requires a device running iOS 4.2 and higher or Android 2.2 and later plus a Wi-Fi router with Internet connectivity.
Currently QVC is bundling the Netcam with another Belkin product, the WeMo Switch which proved to be as difficult to set up as the Netcam. Included in the box with the white 3-pin bulky switch unit with pass-through capability, is a notice that you could have problems using the Switch with certain smartphones included Motorola, Samsung, LG and Nexus which could hardly be considered minor players. To that list I could add my Huawei.
There were several failed attempts before I was able to establish a link between the WeMo Switch and my smartphone. When I eventually achieved a connection I was able to set up rules to control whatever device would be seated in the Switch. You can control the Switch by specific times, duration or motion plus have an Away mode or just press a button on the smartphone to turn off power to the device using the Switch.
Incidentally I was again offered a firmware update but, as you can probably guess, this time I declined. The Switch was working and I had better things to do with my time.
With the problems I encountered in setting both devices, this not a product I can wholeheartedly recommend. Once set up it is fine but getting there is not an experience to be enjoyed. The two product bundle is available from QVC priced at £105.
http://www.qvcuk.com/Belkin-WeMo-SD-NetCam-&-Smart-Switch.product.505999.html?sc=SRCH&cm_sp=VIEWPOSITION-_-1-_-505999