Bosch Cordless Athlet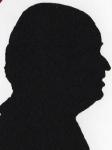 Happily you not need to be an Athlete to use this rather nice cordless vacuum otherwise that would certainly have ruled me out. In fact from setting it up to first use was less than a couple of minutes, no screws it just clips together.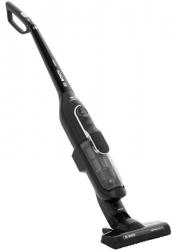 click image to enlarge
To use it on the floor or carpet it is just a matter of clicking together the foot and handle to the body. However for those harder to get at places like stairs there is a long hose and a harness/strap so you can wear the unit and no danger of pulling the unit onto yourself.
It is 114cm tall, 13cm across at the middle and 28cm across at the foot. I make the weight 3.2kilos.
There are three different power settings, 1, 2 and Turbo, not only does the noise of the cleaner increase from a whisper to something a lot louder according to the setting but also the amount of push you need to impart to move over the floors or carpets.
The foot has two wheels at the rear and two tiny wheels at the front of the brush unit. Not only is this unit cordless but also bagless. You can see how full the container is as the front is clear Perspex, above this is a three bar LED setting that shows the amount of battery remaining. It is stated that you can do 60 minutes of hovering between charges, I think anyone who can hoover for 60 minutes non stop is probably a professional cleaner.
Finally for normal floor use mode it will stand up when not in use some other such units do not have this ability.
The accessory kit has four heads/brushes and a long hose that fit onto the unit easily, as stated the hose has a strap that you fit over yourself to allow the cleaner itself to be attached to you leaving your hands free to control the fittings for stairs, walls, ceilings and upholstery and curtains.
From empty to 80% charged is three hours, double that to reach full charge.
Returning to the modes setting one is very easy to push and is for light cleaning, setting two a little noisier and requires a bit more effort to push, setting 3 the Turbo Mode is not quiet but is great for deep cleaning for thick carpets and rugs and this really sucks up the dust and grit.
For those occasions when things like stands of cotton get tangled round the brushes there is a 'Easy Clean' setting on the right side of the foot, this is also great for removing those long shoe laces that were just to close to be missed as you hovered past.
I am struggling to find any fault with this unit, maybe the 'up to 60 minutes' claim is a little ambitious as you certainly would not get that on setting 2 or turbo.
The Bosch Athlet is a powerful cleaner that moves effortlessly from carpet to hard floors without any adjustment needed and you could even use it with the attachments to clean the car without worrying about an extension lead.
The Bosch Athlet is available from the first link below for £249 and they even deliver on Sundays.
http://ao.com/product/BCH625KTGB-Bosch-Athlet-With-Accessory-Kit-Upright-Vacuum-Cleaner-White-29834.aspx
http://www.bosch-home.co.uk/our-products/vacuum-cleaners/cordless-vacuum-cleaners/BCH625KTGB.html?source=search