Lavazza LM 3100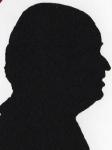 With such a name you would expect this machine to be made in Italy after all the Italians can make a very good cup of coffee. This machine however is made in Germany a country perhaps more famous for making quality cars, it is made by AEG.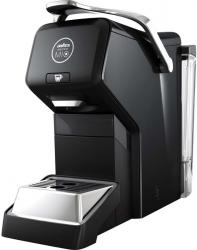 click image to enlarge
This is a pod machine where the operation is so easy they state an 8 year old child should be safe to use it.
Once unboxed and the ten pieces of tape that secure it are removed you just have to remove the foam strip from under the water container and follow the rinsing instructions.
So to use plug it in, pop a pod of coffee into the one way container in the top lower the metal handle, press the on/off button and then the picture of a coffee cup on the front, assuming you remembered to put a cup under the spout a few seconds later a measured stream of hot coffee emerges.
So where does the coffee come from to make the pods, a range of places and it is of course blended in Italy.
I have a friend who will bore anyone for hours about his latest bean grinder and the journeys he makes across London in the tube to a little shop in Camden Town to buy his coffee.
I like coffee but not enough to buy beans and a grinder to make coffee. I certainly like good coffee and while I am happy with more expensive instants a coffee machine and good pods are a step up.
From switch on to the button on the front to stop flashing is 20 seconds. You are now ready to dispense your coffee, a single press and the pre heated water is passed over the pod and into the cup you decide how strong as the stream will continue until you press the button again, next add milk if you want to and then drink, with the milk added some may say the coffee is not hot enough, for me it is just right, but you certainly do not leave it for five minutes to cool down.
The unit is 34cm deep, 10cm wide and 26cm tall. The water container on the rear can hold up to one and half pints of water. The pod when used is automatically dispensed into a used pod container internally and this can easily hold six used pods.
I checked the pods when used and each has 14 perfectly symmetrical holes drilled in it, any grounds that escape and held in a space under the pod container and both are easy to clean.
The coffee machine mechanism is efficient and worked without problems during my tests; the one thing that may cause a problem is if you do not seat the water container perfectly after refilling. Of course if there is never any water left there is no reason to remove it.
I enjoyed the twelve sample pods (six blends) provided and I understand that a box of 16 pods will cost less than £4 in supermarkets so around 25pence a cup.
The Lavazza LM 3100 is available from the link below for £69.81 with free delivery.
http://www.amazon.co.uk/gp/product/B00KKZN5ZC?ie=UTF8&tag=gadge0a-21&linkCode=as2&camp=1634