Espresso Coffee Maker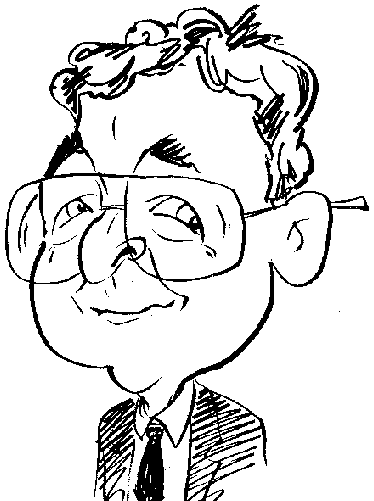 Review controls
While the presence of coffee shops on the High Street continues to grow, we still need a means of providing our favourite beverage in the home.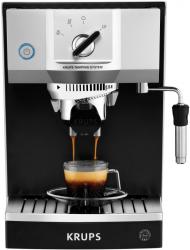 click image to enlarge
Don't get the wrong impression if I mention that I am a Mug sort of guy. Let me explain what I mean by that remark. I am the type of person who has always preferred having their hot beverage, whether it was tea of coffee, in a mug rather than a cup. Mainly because a mug holds more of the refreshing liquid but I suppose there is also some of my northern upbringing in there as well. The relevance of my preference for a mug will become apparent later in the review of this next product.
Currently sitting on my kitchen table is a Krups XP5620 Espresso Coffee machine waiting to perform its designated task of providing yours truly with a constant supply of his favourite liquid (during working hours that is). Predominately matte black in colour, so avoiding any build up of finger smears through constant use, with a matte silver control panel and a selection wheel positioned across the front, this coffee machine features a couple of silver tray that act as a cup warming plate and a drip tray grid sited across the top and near the bottom of the machine respectively. While this arrangement might not be the most stylish in appearance, the overall look is not unattractive and you do get an instant idea as to the purpose of this device. The control wheel gives you options for coffee making and a steam feature when you need to foam up milk for your cappuccino or café latte.
Little setting up of this device is required other than removing the unit from its packaging and plugging it into a power source. Reasonably compact in size with base dimensions of 215 x 235mm rising up to a height of 305mm, this unit does need to be place within 90cm of an appropriate power source due to the length of the attached power lead. This should not cause too much of a problem in most modern households and you could always add an extension lead if it helps with positioning.
Krups recommend that you start of your coffee making procedure with a warm up run whereby you let the machine run through its process without any coffee or milk being included, just water prior to actually making your favourite beverage. When making your cup of coffee, you have a choice of using Espresso ground coffee beans or one of the various pods "E.S.E" Espresso pods that available including soft pods. The "E.S.E" stands for Easy Serving Espresso.
Whichever your choice of coffee, whether ground beans or a pod, it will need to be inserted into a filter holder which reminds me a little of those ice cream scoops that are used in various establishments. Loaded with the ground bean or pod, this filter holder is attached and locked into position on the percolator head. This is achieved by twisting the holder from left to right as it travels over a series of teeth and it is an operation that does require some practice to be able to achieve it first time. I am still at the stage when two or three attempts are required before I get it right.
Water is added to a detachable plastic tank located at the top of the device. You can place either a single cup or two that sit side-by-side under the twin nozzles that protrude from the base of the filter holder and switch the control wheel to the coffee option. Notice that I mention cups at this point. It is possible to fit a mug or even two in the available space. However in order to remove the mugs when filled with coffee, they have to be held at an angle running the risk that the contents will be spilt. Of course you could avoid this situation by stopping the coffee process when the mug or mugs were only half filled but this would defeat the purpose of having mugs in the first place.
As mentioned earlier, this Krups coffee machine has a steam function for frothing up milk. Towards the right side of the device is a tube which directs steam into a container holding a small quantity of milk for adding to your coffee. Krups recommends that pasteurised or UHT milk be used in this instance. You will need to provide this milk container as one is not included as part of the product.
The Krups machine could never be considered as performing a silent operation. It does have its own array of sound effects as it proceeds through its routine. It seems to become louder as it approaches the conclusion of the coffee making operation. Generally I found that it took between 2.5 and 3 minutes to produce a "cup" of black coffee. Krups has price this Espresso Coffee Maker at £199.99.