JML Go Chef 8 in 1 Cooker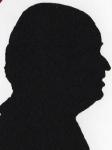 Review controls
Having recently told you about a JML Halogen Cooker this is rather different. Most people will know of a Microware and those – like me – or a certain age know about a Slow Cooker but what does this 8 in 1 have to offer.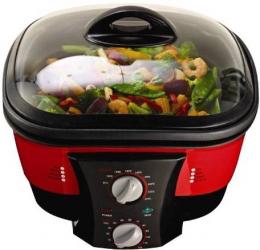 click image to enlarge
Glass, Ceramic and Non Stick all words in today's vocabulary how to they fit into the GoChef.
The GoChef can be used to Boil, Slow Cook, Fry that is Flash Frying Shallow Frying and Pan Frying, Sautéing, Steaming, Roasting, Fondue, Reheat and Defrost.
Unlike a Microwave you can use metal utensils and two racks and a frying basket are supplied.
The twelve page Instruction and User Guide has five pages of description and useful hints. There is also a full colour thirty six page receipt guide that should get you started and allow you to learn and then modify recipes designed for other forms of cooking.
These days with space being at a premium one way some utilize space to the best is to cut out most of the kitchen so no oven or cooker and perhaps just a microwave and sink. This is fine for a couple of working age who eat out most of the time and then perhaps just reheat last night's curry so maybe – if they have one – the fridge may have milk and beer or wine and that's all.
However what happens when a baby appears or circumstances change you cannot suddenly invent a cooker so something like GoChef that just needs a 13amp plug could be the answer.
It is more or less square at 32x32cm and 19cm tall. I say more or less as the edges are somewhat less than the dimensions given.
Could you cook a roast dinner for four in it probably not. Could you create a range of items for two yes indeed. In fact most of the recipes in the guide are for two.
There are two control knobs on the side of the unit one for temperature and the other for time.
It is a popular promotional tool used by online casinos to attract and retain players. Free spins give players the chance to try out a variety of slot games without risking any of their own money, enhancing the overall gaming experience. Additionally,
casino rewards free spins
offer the opportunity to win real money or additional bonus credits. The number of free spins awarded can vary widely between casinos and specific promotions, with some offering as few as 10 free spins, and others offering 200 or more. It's important for players to read the terms and conditions of these rewards, as there may be wagering requirements or time restrictions associated with them.
There are thirty receipts in the book. It would have been nice to see some illustrations of the completed dishes.
They are divided into sections which more or less conform to the times of day, starting with Porridge and Scrambled Eggs with Spinach which are called Morning Treats, moving through Light Bites, Quick & Easy, Classic Mains, Sides, Fondue and ending with Sweets.
Under the Classic Mains heading there are two Chicken offerings, three Beef dishes, two pork examples, one Fish and one Lamb and for those who prefer veggie choices an option there. The methods shown should allow you to get the idea to cook most things changing the style, time and temperature. It also documents the use of the racks.
I tried several things from basic Chips to several of the Sweets – my weakness – and all worked well.
I suspect the market will be for those with limited space and it proves you can cook a meal but given the market I think having examples of the finished dishes illustrated would be more likely to temp the novice to experiment.
The Go Chef 8 in 1 Cooker is available from the link below for £76.98 and find something else on their site to bump your order up to £99.01 and get free delivery.
http://www.jmldirect.com/uk/offers/go-chef-bundle-offer/invt/g0bcg20100001001