Oregon Weather Station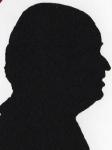 For those who always think the weather forecast is wrong or who always think your own personal weather is different from what they say this may just be what you are looking for - your own personal weather station from Oregon Scientific.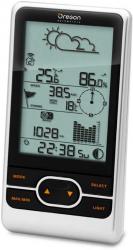 click image to enlarge
With so many things needing a PC or Internet connectivity this rather bucks the trend in that it does it all in the modules supplied so once you have it in position you can tell wind speed and keep you own count of rainfall and more.
Everything you need is in the box apart from a screwdriver and something to drill holes; all the washers' screws and batteries are supplied as well as the various modules.
So the four main units are a rain gauge this is circular at 10cm and is 15cm tall the base has four screw holes for ease of fixing.
The wind sensor a maximum of 12cm across and 19cm tall it comes with a bracket for ease of fitment to a post. This unit unscrews in the centre to allow insertion of two 'AA' batteries.
The Thermal Hydro Sensor and bracket this has three channels to ensure good reception to the main station and runs on two 'AAA' batteries. This is 9.5x6.5x2.5cm.
Finally the main unit (the only non weather resistant one) designed for internal capture and display of the data from the other three units. It is 19x9.5x5cm at the base and this last figure tapers to only 1cm at the top of the unit.
This unit requires three 'AA' batteries and the front screen is 10.2x7cm and displays the information in real time. Below the screen are four buttons, Mode and Select and below these Max/Min and Light. Between these are up and down arrows to allow you to scroll through the units data.
So all from the main unit you can see the likely forecast, the time, the wind speed and its direction. Temperature (both outside and inside), humidity and barometric pressure. It also displays graphs to show rainfall.
Should this still not be enough information to regale all with you can also purchase additional temperature sensors, humidity sensors as well as pond or swimming pool sensors as well as UV sensors so no surprises when you step outside.
The forecast module is quite basic but in my tests proved quite accurate. It works for either 12 or 24 hours in advance offering advice via image of sun, part cloud, cloud, rain or snow, I am please to say the latter has not appeared during my tests.
The clock module is radio controlled thus allowing you to know exactly what time what wind speed was achieved etc. The unit can display the information in English, French, German, Italian, Russian or Spanish as required.
Finally like most radio controlled clocks I have seen it also has an illustration to show the phases of the moon.
For £99.99 direct from Oregon this gives a lot of information yes some thought is required initially to place the various sensors (avoid full sun positions) but after that you can know exact data without even looking out of a window.
The first link charges £5 P&P on top of the £99.99 price so the second link direct from Oregon is cheaper as they give free delivery.
http://www.amazon.co.uk/gp/product/B005NGWN4C?ie=UTF8&tag=gadge0a-21&linkCode=as2&camp=1634
http://uk.oregonscientific.com/cat-Weather-sub-Professional-prod-Complete-Home-Weather-Station.html