Miele Hybrid Vacuum Cleaner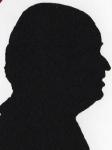 Review controls
A pull along cleaner with two major differences, first the suction tube really stretches and second it can run for up to twenty minutes on its inbuilt battery. So if the lead is just long enough to get to that place there are two ways to access it.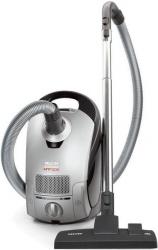 With a battery built the Miele S4812 hybrid vacuum cleaner is naturally a little bit heavier than other products but with a 6.5metre flex and the very stretchy tubing it will not need to be picked up that much.
It is 45x24x20cm (these are maximum figures as the unit is curved), the base unit weights around 8Kg without the tube.
The tube end inserts into the top of the unit and once inserted correctly you can happily pull the unit along by it with the tubing stretching when required just to get into that crevice. There is a carry handle at the front for when it needs to be lifted. The rear has a power control that at maximum is a very powerful 1800 watts in a lot of cases this will be far too much and this does even lift carpets and rugs and to get a smooth movement from the cleaning shoe I often had to reduce the power to half or even less.
The shoe comes with a solid arm (surely not a leg) that can vary between 75cm and 1.2metres long. Then the flexible hose that in its non stretched length is 1.8metres long. You can use the flexible hose without the shoe and there are three small cleaning tools supplied to get into crevices and clean other things like curtains etc in place.
Towards the back on the right side is the foot control to retract the power lead (very strong spring) back into the unit. Opposite is the control to turn the unit on/off. It does power up slowly taking a few seconds to reach maximum.
When used on mains or battery you see an orange strip on the top (towards the back) and if on mains it can also charge the battery while in use. One recent unit I reviewed could not be used while it was being charged up.
To fully charge the battery will take around three hours and after this you could use it for around 20 minutes on battery. However I suspect the battery will be used only on rare occasions where power is not available such as no power in somewhere like an attic or maybe during a power cut. One thing to know though on battery it only has one third of the power when on mains use but this still will work well for general cleaning tasks.
The cleaning shoe has two settings one for thick carpets and rugs and the other for smooth floors as it clears wooden floors just as well as carpets.
The bags are not reusable and can be purchased in packs of four, I am told that each bag should last around six weeks 'with average use'.
I cannot say much about the manual as my unit came with a German manual as it was not yet available in the UK when I reviewed it but by the time you read this it will be on sale in the UK.
For anyone who does not need the 'hybrid' part Miele do a range of other units at cheaper prices. Having the ability to clean where there is no power is perhaps a plus. But of course there are such things as extension leads so even if 6.5metres (plus that extra given by the stretchable lead) is not enough you could consider an extension lead. However no matter how long the lead if there is no power at all then the twenty minutes of cleaning given by the battery (even at a lower power) could well be worth paying the premium for the 'hybrid' unit.
The Miele S4812 (based on the S4) has a likely price of £499. It should start to become available as you read this.
http://www.miele.co.uk/vacuum-cleaners/s4/s4812hybridvacuum/