Review of the latest slow cookers and pressure cookers

Published Dec 10, 2009 Author
jzblue
Review controls
Want to rustle up a nutritious and delicious meal on these cold winter nights? Should you be going for a flashy pressure cooker or a reliable slowcooker?
The weather is definitely colder and wetter in case you've taken to hibernating. Now we are in the season of Advent there is simply no denying that winter is here and so our thoughts have turned to warming soups and nourishing casseroles – yummy comfort food.
I thought I would give my Le Creuset a rest and look at what gadgets are out there to help make sure there is a warming dinner on the table as the nights draw in. There may be one of these that you'd like to put on your Christmas list
At one end of the scale you have the reliable slow cookers where you literally chuck everything you need in to the pot in the morning and come home to a piping hot casserole. I experimented with a number of my tried and trusted recipes and found that I had to adjust the amount of oil that I put it because they turned out a bit greasy. With slow cookers there is a big debate about whether you brown the meat or not and Michelin starred Phil Vickery has come down on the side of 'not browning' saying that you really don't need to, but I suspect for many of you it will be a matter of taste.
On the other hand you have the old/new kid on the block, the pressure cooker. As a child I remember how nervous my mum was of her pressure cooker and how the noise of the steam being let out was rather scary. The basic premise is that, by adding extra water and boiling it under pressure it increases the boiling temperature, the food cooks faster and seals in nutrients. According to Prestige the amount of EXTRA water you need to add is ½ pint for the first 15 minutes and ¼ pint for each 15 minutes after that as a guide. You should also be aware that just because you have a big pot, you mustn't over fill it so please make sure you read the manufacturer's instructions.
If you want to cook anything which involves minced meat such as a spag bol, I would recommend you turn your back on these gadgets and go back to the hob/oven. Both types seem to turn it into the most disgusting gloop that looks a lot like cat sick or that could just be my cooking!!.
Once you have got your head around the fact that you aren't going to stand over a casserole dish, adjusting the taste as you go there, are definite advantages for both types of pot.
Pressure cookers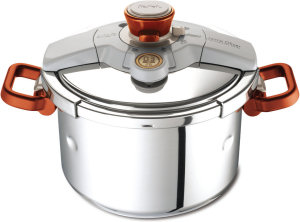 Jamie Oliver Pressure Cooker by Tefal £120.42 from Amazon
We tested the Pressure Cooker by Jamie Oliver for Tefal which is apparently 'set to revolutionise the way we prepare our food, making it faster, healthier and tastier.' This Pressure Cooker has a Dual Overpressure system that ensures the pressure is cooking food at its optimum. There are also two cooking settings which, at the flick of a switch allow different levels of pressure cooking a meat setting and a vitamin setting for vegetables. Overall cooking time is cut by 1/3rd
I love Jamie's recipes so I was very optimistic. The first thing that struck me was that this was like a tardis in reverse it looked bigger on the outside. I have 2 sons and a husband from Cumbria so we don't do small portions and this model would just about fit a casserole for 4 people in. While the controls are wonderfully easy to use, there is nothing that indicates whether you are maintaining the correct pressure once you have reached it. I obviously wasn't so and it's not as if you can look and check. So when the timer pinged my casserole was more of a soup of parboiled veg than the delicious casserole I had imagined.
Score : 3/5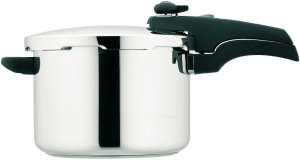 The Prestige Smartplus 6 litre Stainless Steel pressure cooker £43.61 at Amazon
The Prestige Smartplus is perfect for preparing healthy family food, fast. It cuts cooking times by one third, which means that more nutrients are retained, so food is healthier and tastier, much like the Jamie Oliver one.
However, there the similarity ends. This really is the industry standard and with good reason. I doubt the design has changed much for the last few decades and when you are dealing with something like pressure, you want a reassuring piece of kit that has kind of 'keep calm and carry on' attitude to it.
What I really liked was the controls that include a little red button which rises up as you achieve the correct pressure so you avoid slop and turn out delicious food. The pot size also seemed a lot more suitable for a hungry family on a cold winter's day.
However releasing the pressure still scares the willies out of me.
Score : 4/5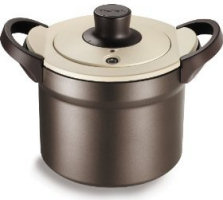 Tefal Wikook £99.99 Amazon
I really had to chuckle at the press release that came over with this pot because apparently the Wikook is 'Set to Revolutionise the way We Cook Forever!' Do you see what they have done there? The Wikook promises 25% faster cooking times (which means 25% less energy) than a traditional cooking pot but unlike a pressure cooker you can remove its patented Tefal Power Lid to adjust the flavours of your meal which is brilliant.
Where it does fall down is the size. It can make meals to serve 'up to 4 people' which is a bit on the small side for us. My experience of cooking a soup in the Wikook was that while I could adjust the flavour of my food I didn't notice any appreciable difference in the time it took. It certainly didn't make me want to rush out and spend £100.
Score : 3/5
Slow Cookers
After all the excitement of the speedy pressure cookers I was glad to turn to something a little more relaxed in the shape of the two slow cookers we tested.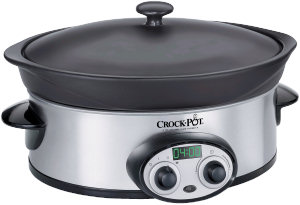 Crock Pot Countdown Sauté Slow Cooker £59.95 at John Lewis
Crock Pot Slow Cookers have two ranges of products - the traditional models and the Sauté models. We chose to test one from the Sauté range because it does give you the option of using the removable Stoneware cooking bowl on direct heat and at a generous 5.7 litres will feed quite a few hungry mouths. This flexibility that the Sauté offers is fantastic and saves you dirtying another pot while you prepare your meal. So you can brown meat, sauté veg or even caramelise fruit before adding your other ingredients and putting the bowl straight into the heating cradle and slow cook in the usual way. To make things even easier the lovely people at Crock Pot have incorporated a countdown programmer. Can I say a big thank you to whoever was so incredibly sensible as to come up with this idea? When you rush in of an evening you don't have to try to remember what time the pot went on or leave big notes for your family about when to switch it off. It is all right there in front of your nose. Brilliant! Oh, and if that wasn't enough the pot goes in the dishwasher as well.
This is my absolute favourite without a doubt.
Score : 5/5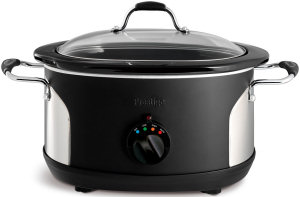 Prestige Slow Cooker 4.5l £34.99 from Amazon
The premise of slow cooking is that you can chuck everything in a pot and leave it to get on with it and the Prestige Slow Cooker made a very decent big stew in the end. But it wasn't quite as easy as the Crock Pot. The cooking pot felt more cumbersome and was harder to lift into the heating cradle, the heating element didn't seem to cook that evenly and the lid was not the best fit. The timer is quite basic and if you don't make a note of the time you put the food on, you won't know when your delicious meal will be ready. Nevertheless the stew I made did waft the most delicious smells throughout our house so I may be being a bit demanding.
Score : 3/5