Two Clocks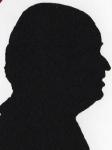 Either of these items would make a great Christmas gift, but give some thought to the receiptant as the first one runs backwards. The second is a more conventional al la Wallace and Gromit 'conventional' both are great fun.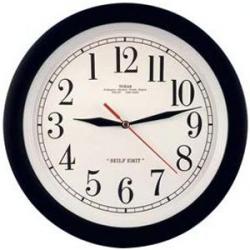 The Backwards Clock
At first look this may seem bizarre, however it works exactly like a normal Quartz clock with the twelve at the top and the six at the bottom but there the similarity ends as to the right of twelve is eleven and the sweep second hand goes anti clockwise (as do the hour and minute hands) if you are still confused look at the clock in a mirror and all will make sense.
This is great talking point and during my tests it kept perfect time. When you look at it normally just take a couple of seconds to make your brain forget what you have learned and the time is there to be read correctly.
It is a 28cm Quartz wall clock with the manufacturers name the right way round (strange) under the twelve and a little above the six 'SEILF EMIT'.
Required is one 'AA' battery and if it lasts as long as in a standard Quartz wall clock you will not need to change it very often.
It is sub titled 'The Bemusing Backwards Clock' but really it is extremely logical. Ideal for the person who has everything and it will always be a talking point. Ask yourself one question why do we always expect a clock to run clockwise?
We only glance at clocks this clock will never only be glanced at. Available at only £9.99 from the link below. If I were rating it then I see no reason why it should not be five smileys.
http://www.find-me-a-gift.co.uk/backwards-clock.html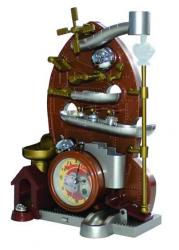 click image to enlarge
Cracking Alarm Clock
Did I say this was normal, well only if you think Wallace and Gromit are normal. Again a talking point and maybe the present for a child (not too young as there are balls and small parts) but it is certainly intriguing.
Towards the base is a 7cm round Quartz alarm clock with standard hour, minute and second hands, there is also a smaller alarm set hand all very like any small quartz clock. There the normality ends a picture of Wallace and Gromits heads are behind the clock hands.
I am not even going to try to explain the added bells and whistles (cocka..doodle..dooo). Just be content to know it is as intriguing as most of the Wallace and Gromit inventions and while it works as a standard alarm clock it does much more.
The overall size is 27x18x11cm. It is mid brown and grey in colour. The clock runs on one 'AA' battery and I am pleased to say it is supplied. The unit also uses three LR44 (watch/clock) batteries that power the speaker and hurrah these are also supplied.
Even if the child has not yet discovered the sheer brilliance of Wallace and Gromit then this Cracking Alarm Clock will certainly please.
Available from the link below at £24.95
http://www.smarterproducts.co.uk/acatalog/Wallace-and-Gromit-Cracking-Alarm-Clock.html