A Dedicated Scanner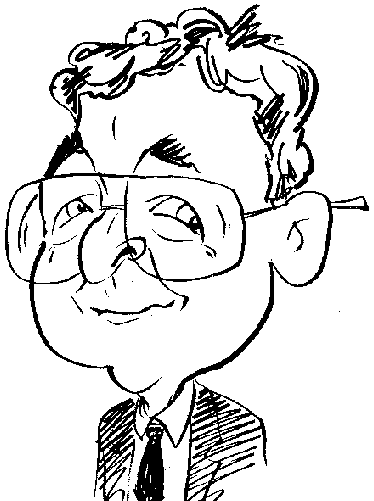 Review controls
Many of the scanners that come by way, for testing, form part of an All-in-One or multifunction devices. However there are exceptions and this is one of those occasions.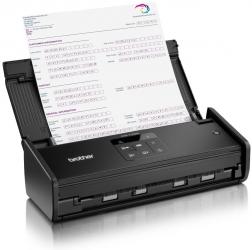 click image to enlarge
The Brother ADS-1100W is a compact personal page scanner which means it is restricted to scanning single pages rather than a book or magazine. As the "W" part of its model number might indicate, this scanner can connect to a computer system, whether of the Windows or Mac family, via wireless. There is also an option for a wired USB connection when setting up this device which has the capability to scan both sides of each page simultaneously.
With dimensions of 285 x 103 x 84mm (W x D x H) and weighing 1.5kg, this page scanner is hardly suitable for slipping into a pocket, unless of course you have over-sized patch pockets, although it is reasonably portable as it can be carried in a bag as you travel between various locations. Predominately black in colour, the page scanner unit has connections on the rear for standard USB, mini USB, mains power and a Kensington security lock option. While the mini USB port is for linking to a computer (a lead is supplied), the standard USB port is for attaching a USB flash stick for storing the results of scans. Also situated on the rear of the unit are a slot for scanning business cards and a recessed button for activating the scanner's WPS feature for automatic Wi-Fi connection to a network.
A speckled top cover, with a central cut-out window revealing the unit's Control Panel, needs to be raised in order to gain access to the document page guides and an ADF (Automatic Document Feeder) feature with a capacity of 20 pages. When in its opened position, you can raise a couple of support arms into a "V" position for when large pages are being scanned.
The touch-sensitive Control Panel is divided into various areas. In the top left corner is the blue Wi-Fi indicator light. Running down the right side are an orange error indicator plus appropriately colour Stop and Start buttons. Taking over the rest of the panel are various scan buttons for sending data to a computer, flash stick or network device.
When setting up this page scanner you have the option, as previously mentioned, of selecting a USB or Wi-Fi connection. In both cases, step-by-step instructions are supplied as part of installing the supplied MFL-Pro Suite made up of drivers and additional software. I opted for the Wi-Fi connection which gives you a further choice of a manual-type set-up involving the supplied USB lead or the automatic WPS operation. As the former method required more user-interaction including supplying network and router information, I decided to stick with the WPS option.
This required using a sharp implement which needs to be inserted into the recess on the rear of the unit and pressing the WPS button on the router. Unfortunately the first attempted failed to make a connection. The instructions suggested that moving the scanner and router closer together could be a solution. However trying this solution again produced a failure to connect. Positioning the two items even closer together finally ensured that a connection was finally established. This is the first time I have encountered a problem with setting up a wireless connection with a Brother product.
Having set up the Wi-Fi connection, it was time to check out the various software utilities provided with the product and its scanning capability. Central to these utility options is ControlCentre 4 which provides the functionality to make adjustments to various scan settings plus carry out scans of different types of documents. You can select from the presets of Photos (600 x 600 dpi, 24-bit colour), Text and Graphics (300 x 300 dpi, 24-bit colour), Monochrome Text (200 x 200 dpi, Black & White) or your own custom settings. You can opt for a particular page size or select the auto option before activating a scan of the current loaded document(s) from the ADF module.
As mentioned earlier, a scan job can be made up of 20 pages with each page being scanned simultaneously on both sides as the page passes through the scanner. A 7-page double-sided document was scanned in 50 seconds with the individual pages being displayed carousel style in the ControlCentre 4 interface. This content can be saved, sent to a printer, opened with a specified application, sent by email or run the current page through an OCR module. Even with thin paper, the scan quality was good.
As well as the ControlCentre 4 software, two additional pieces of software are included with this product. You get copies of a Business Card application that makes use of the slot at the rear of the scanner and an application for scanning receipts. A Receipt Carrier Sheet, to help protect receipts as they are fed through the scanner, is provided.
Apart from the problems I encountered with setting up the Wi-Fi connection, I was happy with the performance of this page scanner. The scan quality was good with impressive performance and overall functionality. The product's price tag of £250.80 marks this device as being more suitable for a business or professional users rather than somebody who is looking for a scanner for general purpose use.
http://www.brother.co.uk/g3v1/g3.cfm/s_page/215760/s_level/233110/s_product/ADS1100WZU1/