Salter 1060 Mix 'n' Measure kitchen scales

Published 8 Jan 2009 Author
jzblue
If you need a set of kitchen scales that are supremely accurate and look great as well, then take a look at the Salter Mix 'n' Measure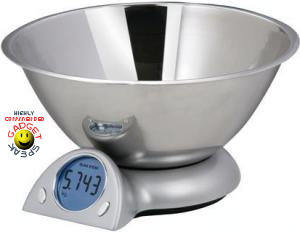 click image to enlarge
January is still shiny and most of us haven't had the chance to break our resolutions yet. If you decided to lose weight or spend more time cooking gorgeous meals from scratch, I have just the product for you – the Salter Mix 'n' Measure scale. Now if you thought weighing ingredients was just a matter of chucking some flour or sugar in a bowl let me enlighten you. Most scales either leave you peering at a dial or work in increments of 5 grammes. Both lack the kind of precision that you need when counting the calories or to perfect your cooking. Imagine trying to weigh out spices for your authentic curry if you aren't sure whether you just added 5g or 9g of chillies?
The Salter Mix 'n' Measure is designed to fit seamlessly into your kitchen and is accurate to the nearest gramme or indeed millilitre - that's right, it weighs liquids as well. And if you are looking to cut down on the washing up, this scale can be zeroed so you can add all the ingredients you need to in one bowl up to as much as 10kg. Salter have been making scales since 1760 and they certainly seem to understand what we want in the 21st century kitchen without making things overly complicated.
I have been using the Salter Mix 'n' Measure for about 2 weeks and have really put it through its paces, baking bread, muffins, cooking a ham and preparing the entire Christmas dinner. Exhaustive is the word I would use for this review and I am incredibly impressed with how well designed and how supremely functional this product is. The Salter simply makes things easier.
Salter Mix 'n' Measure kitchen scales are available for £45.44, including delivery, from an Amazon partner on the following link:
http://www.amazon.co.uk/gp/product/B001M1EH5A?ie=UTF8&tag=gadge0a-21&linkCode=as2&camp=1634