Krups Hand Blender GPA3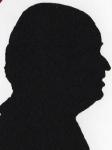 Review controls
While this is a hand blender it can also be used as a mini grinder or even with a whisk attachment to beat cream, make mayonnaise etc. So I suppose this is really three tools in one.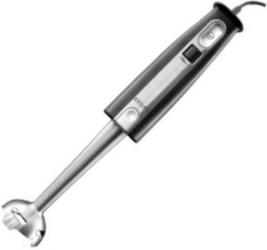 Firstly the Krups GPA3 is a 600watt hand blender. In this format it is 39cm long. The motor part is 20cm long and the stainless steel blender clips onto the end making the 39cm length. A single push button at the end of the motor part allows the blender to be removed and placed in the sink etc without your hands having to touch it.
The motor part has a rubber grip that goes from the top for 9cm. the other side to the grip has a push button and just below this a thumb wheel twist setting to allow you to start as slowly as you wish before ramping up the speed. This factor is very important unless you wish to decorate your kitchen with soup etc as putting a hand blender into liquids or into items to be blended will initially cause mayhem so start slow. Also if the ingredients are hot you could end up with nasty burns.
You can of course use it to make smoothies etc and it will even deal with small amounts of ice.
Unlike the recently reviewed Philips unit (8/9/08) this comes with only a single 800ml (30 oz) grinder. You need the motor part and this attaches to the lid of the grinder making a 36cm tall unit. As with all these devices do not overfill. It is called a grinder giving the impression it is only for dry ingredients like nuts but I used it with day old boiled potatoes and carrots that I mixed with some apple and then added a little flour to get a patty consistency before I dry fried these. The apples I used were the windfalls from my own James Grieve tree which you unlikely to ever see in the shop as they bruise if you look at them. However the point is they are a very sharp eater and ideal for the receipt I used above.
You also get the whist attachment that could just about be used in the measuring jug (1litre) supplied if you are making mayonnaise or hollandaise as the confined space is ideal for the egg at the start but of course do beware when the volume increases.
The top of the motor unit is where the 1.4metre mains lead emerges from and beside this is a 2.5x1cm display called a digital screen this just tells you how fast the motor is going expressed as graphic. I must admit I had to force myself to look at it as I tend to judge by sound and what is happening with whatever I am working with. To me anyway it's just a gimmick.
It is supplied with a wall mounting block for the motor unit; however I always tend to wonder why the other parts such as the jug, mini grinder and balloon whisk do not have a home. I tend to find after washing (it is stated to be dishwasher proof. Of course this is not including the motor arm that should only be wiped with a damp cloth and only then when disconnected from the mains.
I feel certain there should be some instructions but they never got to me. Probably lots of do not do this and that and then a page or so of simple connection advice. I think a small cookbook and advice on what sorts of things it should be used for would also be useful.
Best things a good solid motor unit and the stainless steel hand blender click together and unclick easily. Worst thing the digital screen.
Doing my Internet searches found the Krups Hand Blender GPA 3 at a best price of £56.98 including free delivery from the first link below.
http://www.amazon.co.uk/exec/obidos/ASIN/B000GTR5DA/kelkoocpc-householdappliances-21/ref=nosim
http://www.krups.co.uk/All+Products/Food+Processors/Products/GPA3+Hand+Blender/GPA3+Hand+Stick+blender.htm