Braun Series 9 Wet and Dry 9095cc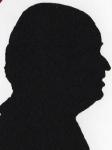 The latest offering from Braun to keep your face perfectly smooth, it is both a wet and dry shaver but unlike the last version I reviewed that had rubber sides this has a chrome effect and is therefore easier to drop if wet really means wet, like in the shower or bath.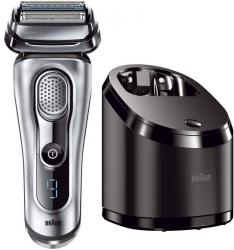 click image to enlarge
The Braun Series 9 wet and dry shaver measures 13x5.5x3cm and weights a not insubstantial 220grams.
The shaver comes in its own zip up case with a leather look outside and a solid inside.
Before I tell you about my shaving with this latest offering from Braun lets mention the extras as without them this could be sold in a much smaller box then the 25x15x15cm offering it comes in.
The largest of these is the charging/cleaning dock which is 15cm tall at its back and 8cm tall at the front, it is up to 10cm wide and the shaver is placed head down to be lubricated and cleaned in the special alcohol based cleaning substance provided in a separate 'Clean & Renew' container.
For those who prefer to use it in dry mode a cleaning brush to remove beard residue is also supplied. Finally there is an 84 page multi language instruction book that starts with three sides of illustrations that apply to all languages but not to all models in the range.
The shaver itself has two buttons on its face to control the unit and is reasonably easy to use. For most a shave is conducted when half asleep so this needs to be easy.
I mentioned above the chrome sides but if you hold it correctly you should be holding the rubberised area behind the chrome area, this does fit nicely in the hand and despite my early misgivings I have yet to drop it.
My wet shaves have been only when I have emerged from the shower or bath as the only way I know of shaving reasonably well is by looking into a mirror and only a few specialised mirrors do not steam up in the bath. So although my hands were damp to wet they were not covered in running water.
The rear of the unit has a single pop up shaver band for sideburns and also that area just below the nose where a larger shaver head just cannot reach.
The main shaver head has four bands that can move backwards and forwards – nothing side to side – two foil covered units at either end of the head and two more vicious looking heads between them but they are slightly countersunk.
The shaver can be locked in one of five positions – once you find the one – that suits the contours of your face. This is possibly a different setting dependant on if it's one or more days of beard growth so perhaps a little too much thought is required.
I feel the dry shave works for the top up when one shave a day is not enough for those with heavy fast growing beards.
I have used it for several days wet and then several days dry both work but I do tend to think wet is best. My fears of dropping it have reduced.
The Braun 9095cc is available from the link below for £219.99 with free delivery.
http://www.amazon.co.uk/gp/product/B00WM2LL4I?ie=UTF8&tag=gadge0a-21&linkCode=as2&camp=1634