Epson Runsense SF-810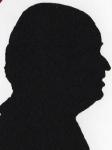 Having looked at and used Epson's first foray into health via watch that lets you log your pulse as well as much more I am here looking at another device, this one aimed at those whose aim is to get fit as well as those who just try to survive.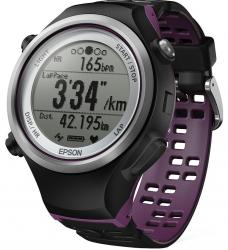 click image to enlarge
This is somewhat larger at 4.5x5x1.5cm and it weights 51grams.
The dial is round and has four buttons on the sides in the 2, 4, 8 and 10 o clock positions, the watch display is digital and will not be correct until it gets a satellite fix.
The initial setup on the watch consists of language, units, height, weight, DOB, gender, year, month and day. Finally something that has yet to reach its sibling the Pulsense date format.
Perhaps I did something wrong but when I created my online – free – account for the first time I needed to repeat most of this information.
There is a large sheet called the Runsense Quick Start Guide and providing you pay good attention you should be able to swap between the three modes of Time, Measurements and Settings. I did find on occasions that getting out of the Measurements screen was not always that easy.
In the time screen it is a basic watch with large figures and a smaller date underneath.
Pressing button 'A' briefly will enter pulse rate mode and this shows after around 30 seconds your pulse as the largest figure, time below it and a couple of small icons near the base of the screen.
If you remove the watch from your wrist the pulse sensor turns off after a short time and the display will blank after ten minutes both these features improve battery life.
Unlike the Pulsesense the pulse sensor will stop recording after an hour or so as this is not so vital for those doing training to know this figure constantly. The time mode I have described is also perhaps the least important as all the facts you trap such as time and training internals will be captured in the measurement section. Also unlike the Pulsesense when you send data to the PC it happens only after you say send to your account rather than automatically.
The settings mode is easy to move round and change settings but remember that time can only be set by use of satellites and that will probably require line of sight so outside is certainly best. You can automatically send data while out and about by using Bluetooth and linking to a Smartphone.
So the main reason to purchase such a device is to know how your training is going which is basically time, distance and speed and being able to recall earlier sessions while still on a session the recall data (history) session. You can have, run, walk and cycle sections all stored on the device.
For those who use Bluetooth the only time you will need the rather large cradle is to charge the watches battery for those using a PC to transfer data this will be more frequent. I found the cradle a tight fit to put the watch in and harder to extract you do need quite a pull to extract it.
The Epson Runsense is available from the first link below for £274.54 with free delivery.
http://www.amazon.co.uk/gp/product/B00OPZ27QG?ie=UTF8&tag=gadge0a-21&linkCode=as2&camp=1634
http://www.epson.co.uk/gb/en/viewcon/corporatesite/cms/index/11211?searchKey=runsense