The MiniDrones Are Coming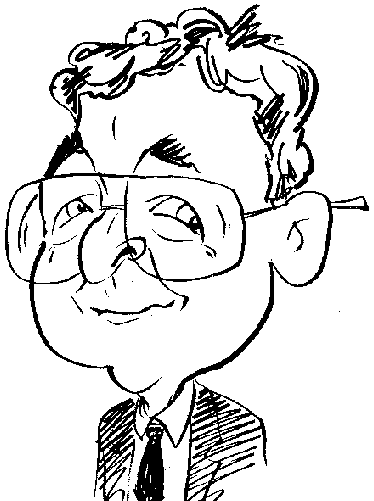 Review controls
They are small, they are fast and they perform tricks. Welcome to the MiniDrones.


click image to enlarge
Parrot, the developer of technologically advanced consumer products for smartphones and tablet, opted for one of London's high-rise locations to announce that we are about to be invaded by a new generation of connected trays. This initial onslaught will be led by the Rolling Spider and the Jumping Sumo that will perform under the control of Parrot's FreeFlight 3 application for Apple and Android devices.
Described as an ultra-compact flying drone, the Rolling Spider combines flying with fast action horizontal and vertical ground racing in a variety of environments. According to Parrot, the Rolling Spider is incredible light at 55g and robust enough to withstand minor collisions due to its polyamide structure whereby repeating units are linked by amide bonds.
When performing in flight mode, the Rolling Spider promises to deliver high-speed rushes, turns and flips in various directions. Switch to rolling mode with the addition of two ultra-light wheels attached to a carbon-fibre axis and this MiniDrone can race along the ground plus, spider-like, climb up walls and scurry along ceilings. While performing these feats, the Rolling Spider can take snapshots with a vertical 60fps camera positioned under its fuselage. These images are stored within the unit's 1GB of flash memory before being transferred to a computer via a micro USB connection. As well as the camera, the Rolling Spider features a 3-axis accelerometer and a 3-axis gyroscope which help control this mechanical MiniDrone in conjunction with the FreeFlight 3 application installed on iOS, Android or Windows mobile devices using a Bluetooth connection.
This device is powered by a rechargeable Lithium Polymer 550mAH battery giving the MiniDrone eight minutes of life from a 90 minute charging session. The Rolling Spider will be available in a choice of red, blue or white and comes with a bonus set of 12 self-adhesive mouths for giving a personal look to this mechanical arachnoid. Initially the Rolling Spider will be available from the Apple Store priced at £89.99 from August onward.
Launched alongside the Rolling Spider is the Parrot Jumping Sumo. While having a slightly more sturdy appearance, this MiniDrone can travel at speeds of up to 2m/s and perform 180 degree turns in the blink of an eye. Depending upon the terrain and possible obstacles, the Jumping Sumo has two large retractable wide-tread wheels which can be adjusted to get the balance between stability and agility.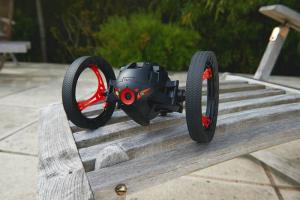 click image to enlarge
As well as zooming around performing 90 degree turns and 180 degree spins, the Jumping Sumo can live up to its title by jumping on or over obstacles using a patented spring-mounted system which is capable of powering a high or long jump of 80cm. The Jumping Sumo can be trained to follow a set of instruction made up of pre-defined movements that it can carry out following the press of a button.
A wide angle camera can stream a live transmission back to its controlling device and also capture images and video which can be stored on a flash stick plugged into the device.
Unlike the Rolling Spider, the Jumping Sumo is capable of showing emotions. Its eyes change colour from green to red when it is frustrated. It will react affectionately when it is petted and can make noises when it is woken up and on other occasions.
Although it has the same rechargeable Lithium Polymer 550mAH battery, the Jumping Sumo gets a battery life of 20 minutes. I am guessing that part of the reason for this increase in time is due to the Jumping Sumo connecting via Wi-Fi 2.4 or 5GHz using FreeFlight 3 on various mobile devices rather than the Bluetooth connection used by the Rolling Spider. Available in a choice of black & red, khaki & yellow or white & black, the Jumping Sumo will initially be available from the Apple Store in August priced at £139.99.
Hopefully I will be able to follow up this report with a full review some time in the future.