Edifer M1380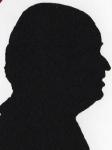 Recently I have reviewed, Wireless speakers, Bluetooth speakers, Wired and Wireless speakers, now a 2.1 speaker set that is totally wired, even the control (I nearly said remote control) is wired so if you like everything wired….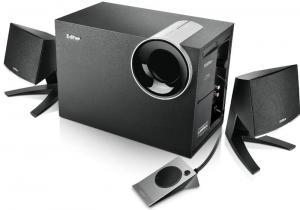 click image to enlarge
While Wireless and Bluetooth have their place, if your PC or audio system is static a wired solution is often best and cheaper while it can still give excellent sound quality.
The speakers are 12x10x14.5cm at the front, they are near triangular in shape and only 10cm tall and 4cm wide at the back.
Each speaker is hardwired to the sub-woofer by a lead of just over two metres in length.
The sub woofer is 27x16x9cm and has two connectors on the back, inputs from the left and right speakers. There is a hard wired mains lead coming from it, the mains lead is 1.5metres long. Another pairs of hard wired leads emerge from the rear of the sub woofer one goes to the volume control this is 1.3metres long and the other is a 1.4metres long Auxilary input lead.
The wired control is 10x5.5x4cm but is a triangular wedge with it coming to nothing at the front. It has a big round volume control and a small mute control. On the back there is a 3.5mm jack socket should you wish to listen via headphones or earbuds.
There is a small – eight side – User Manual that explains everything.
There are extra controls on the rear of the sub-woofer an on/off rocker and what the manual calls a 'bass trimmer' this is a small circular knob that allows you extra control over the level of the bass.
The two satellites are 8watts each and the sub woofer is 12 watts. While this may not be enough to power a large audio system with the connection method of an Auxiliary lead it is not really designed for that, but I have tested it using the headphone socket of my audio system and the sound was quite acceptable for a normal sized room use.
For a MP3 player or other small music device output it is rather good and those who only hear their 'i' device through earbuds will be surprised how much extra it has to offer.
However connected to a PC (or even a static notebook) the sound output is excellent and you hear sounds you never heard before even with basic Windows sounds.
It seems a very long time since I used a wired control I seem to remember it was with an early video player but it does mean the remote never takes a walk.
The Edfer M1380 is available from the link below for £47.87 with free delivery.
http://www.amazon.co.uk/gp/product/B00473XP12?ie=UTF8&tag=gadge0a-21&linkCode=as2&camp=1634