From VHS to Optical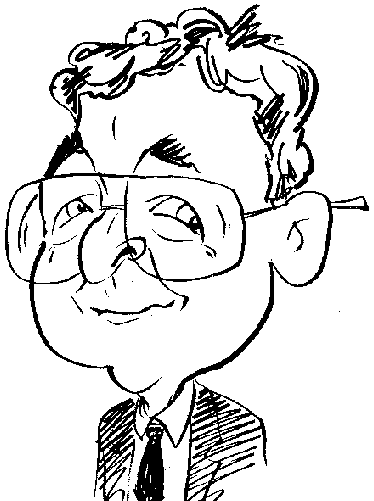 As technology advances, data stored on legacy devices needs to be transferred to the latest format to ensure the content continues to be readily available.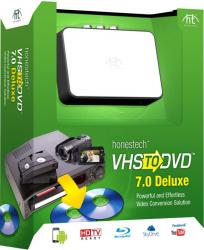 click image to enlarge
You may remember that the last Honestech product that I reviewed was entitled Audio Recorder 3.0 Plus. This product's aim was to help you transfer and convert audio content from analogue format stored on cassette tape to digital audio on your computer for later transfer to optical media. Now the company has released a product which performs a similar task but this time aimed more at video content that is stored on VHS media and various devices.
Entitled VHStoDVD 7.0 Deluxe, this package consists of an external video capture device known as the VIDBOX™, RCA Video/Audio cable, RCA to SCART adapter plug, standard to mini USB lead, software CD and a folded multi-lingual (English, French, Spanish and Portuguese) Quick Start Guide. Prior to setting up and attaching the VIDBOX, you need to install the application and driver software. A system restart will be required to complete the installation of the provided software.
The VIDBOX is a small, lightweight unit. Its dimensions are 60 x 87 x 22 mm (D x W x H) with its weight being approximately 89g. The unit's reflected white top and bottom plastic coverings are separated by a black central section which contains a row of sockets running across the rear. Running from left to right are connections for mini USB, right and left colour-coded audio-in phono-plug sockets, video in and an S-Video connection. A small LED on the front of the unit glows blue to indicate power is being required via the USB connection.
When you first run the Honestech software and make your initial selection from the three modes, you will need to enter the software's product key. This key is 25-characters in length and is located on the CD envelope. Some care does need to be taken when entering this product key as Honestech's choice of using white text on a grey background makes it hard to check that the correct characters have been entered. Later you could be asked for more information in order to register the product.
Once fired up the Honestech VHStoDVD software offers the user three types of operation. Selecting Easy Wizard mode gives you step-by-step pictorial instructions to guide you through the processor of transferring content directly from the source to DVD or Blu-ray media. With the appropriately named Advanced mode you have access to more functionality including editing tools to cut scenes and add transitions as you transfer videos from devices to optical media. The third mode, Audio Recorder, concentrates its functionality on handling audio stored on cassettes, vinyl and video tapes.
Taking the Wizard mode is straightforward. You just need to select the type of media for saving the content and the source plus the connection type to be used. A diagram will be displayed showing the different types of connection. You can preview the recording, set the duration, adjust the volume level and then sit back and watch as the video is recorded and burned to the chosen media. A progress bar will keep you informed as to the percentage of the task completed. The quality of the transferred video will depend upon the condition of the original however I was happy with the results I achieved with a number of video tapes.
While this mode is fine for straightforward transfers that need no additional work, Advanced mode offers you the opportunity to be more creative. A Settings dialogue box lets you choose the capture format and quality, pick the recording resolution and select the location for saving the captured content. Buttons allows you to quickly switch between Capture, Edit and Burn tasks. You can view the video while it is being capture. There are slider bars to adjust contrast, brightness and saturation. Presets are available for capturing content suitable for playback on Apple family, Android and PSP devices plus uploading to YouTube, Facebook and SkyDrive if this is present on your system.
Tools are available to add titles and credits to top and tail your captured content. Transitions can be added between scenes and there are a range of effects that can be added. Videos can be split into smaller sections and then uploaded to social networking sites or burned to optical media. While not as powerful as dedicated video editing products, this software is easy to use and produces reasonable results.
Audio Recorder mode does just that. It will allow you to record audio from a variety of devices. There are options to set a timer and select the output folder for the recorded content. This software can also be used to create audio CDs.
Honestech is an easy to use product that is capable of producing good results with the minimum of user intervention. Priced at £59.99, this product requires a 3.6GHz processor with 1GB of RAM, 700MB of hard disk space for the software plus 10GB for DVD creation or 25GB for Blu-ray creation running Windows XP (SP2) and later.