Edifier e10 Exclaim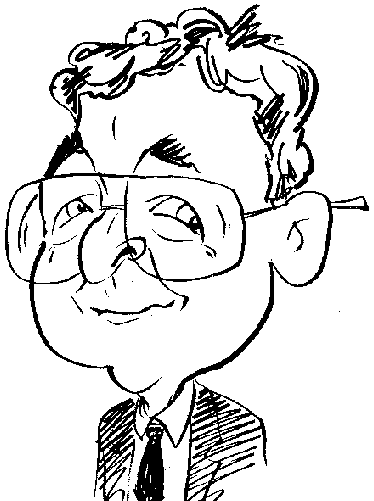 Review controls
After each review of an Edifier speaker system, I try to imagine what shape or appearance the company's next model will adopt. I have yet to get even close.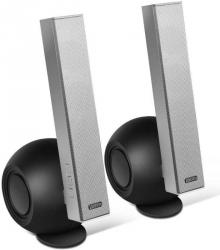 click image to enlarge
The Edifier e10 Exclaim product is a multimedia speaker that follows Edifier's normal pattern of developing a design concept that is somewhat out of the ordinary when it is paired with a PC, Mac, laptop unit or even various mobile devices. As I have mentioned before, on at least a couple of occasions, Edifier speaker systems certainly make an effort to stand out with regards to their appearance. It therefore should come as no surprise to learn that Edifier has again gone those extra yards when it comes to producing an eye-catching design with this two-speaker system.
I could easily imagine the general appearance adopted by this speaker system being replicated in a comic style science-fiction movie as monopod, over-sized eyeballs with periscopes attached wandering around in search of flying insects or unwary space explorers to eat. But enough of my nightmares lets get back to speakers. Fortunately these Edifier creations are stationary and pump out audio rather than look for food to be consumed.
Each speaker consists of a lacquered (finger smear resistant) black coated eyeball of 130mm diameter. The eyeball is perched on a single foot and has a protruding sloping rectangular device attached to the front. This rectangular device has all the general appearance of a periscope. This almost upright fixture, with dimensions of 260 x 38 x 40mm (H x D x W) is metallic silver in colour with a mesh front of the same hue. With such a distinctive appearance, this speaker system is hardly likely to go unnoticed by any visitors you may have calling round.
At an initial glance, these speakers may appear identical but there are one or two differences. One of the speakers is active, that is the right speaker, while the other speaker, designated the left, is passive. The active speaker contains power and volume control buttons on the side of its periscope. I suspect that most users will prefer to use the available controls of the audio source when controlling the volume level but the feature is available if needed. There are also more connections on the rear of the eyeball module.
While both units have a six-pin connection socket for linking the speakers together, the active speaker also has a power socket and a 3.5mm socket for inserting a jack plug lead when connecting to a source for the audio output. Cables are provided for linking (161mm), power (146mm) and attaching to the audio source (174mm) in the box. Although not overgenerous in their lengths, these leads should be adequate for most eventualities.
The e10 Exclaim is a bi-amped speaker system that is made up of six active internal speakers and four passive radiators. The active internal speakers consist of four 1.5 inch devices shared between the periscopes and two 3-inch drivers split between the eyeballs. The four 3-inch passive radiators are allocated to perform midrange/tweeter and bass/woofer tasks.
To help with the quality of the audio output, Edifier has built-in full integral DSP (Digital Signal Processing) and DRC (Dynamic Range Compensation). While you would not want to use this speaker system for your HiFi listening pleasure, this system is more than adequate for attaching to a computer, iPod or MP3 player to enhance your enjoyment of casual listening. It could also provide a talking point as visitors point and says "What's that?" when they first catch sight of the system's distinctive appearance.
The Edifier e10 Exclaim will be available from Currys/PC World and other leading retailers priced at £79.99 although you might prefer Amazon's price of £69.99 which was being quoted at the time of writing this review.
http://www.edifier-international.com/products/edifier-image/exclaim?quicktabs_1=3