Headphones or Earbuds 2013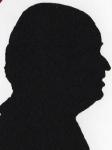 Here a set of headphones from a new name to me Fanny Wang. Mind you I have not heard of Musical Fidelity who makes the ear buds either. I know I am getting old but two totally new names – to me - in the crowded audio field.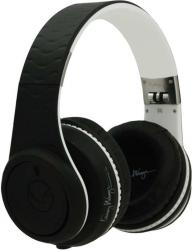 click image to enlarge
Fanny Wang Over Ear 2003
I have been to a couple of events recently that I would certainly have appreciated these headphones just to drown out the exterior noise. I was very much taken by the 'Noise Level' chart in the back of the Manual for them.
Remembering the noise where even shouting into the ear of the person next to you produced no sensible result told me the decibel level was somewhere well over the 100dB so the 95% reduction promised by these would be great.
Large round well padded earpieces at 9cm and covered in soft leather mean even extensive use should be comfortable. Each earpiece can expand by 3cm so almost everyone should be accommodated. The weight was 375grams.
There is a slightly expanded padded rubberised headband so they should stay in place. As with all such units use the noise reduction with care when walking as not hearing traffic could be terminal. The 1.2metre 3.5mm lead has a 'DuoJack' which allows someone else to plug their headphones or earbuds into your lead to share music, a far better arrangement than sharing a single pair of earbuds which seems to be rife among the young.
The 3.5mm lead also comes with aircraft adapter as well as a 3.5mm to 5.6mm plug so you can connect to audio equipment.
Apart from use either with or without noise reduction (supplied 2'AAA' batteries are stated to last 48 hours) there is a separate meaty bass boost which is stated to be 6dB. The units powered amp and 50mm dual plated Titanium drivers produce a clear crisp sound these units were developed for iPod Touch but or course they work with iPhone and in fact anything with a 3.5mm outlet.
The Fanny Wang Over Ear 2003 are available for £173.36 with free delivery from the link below.
http://www.amazon.co.uk/gp/product/B006Q6RAAA?ie=UTF8&tag=gadge0a-21&linkCode=as2&camp=1634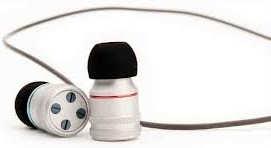 Musical Fidelity EB50 Earbuds
There are occasions when headphones are not practicable and for those occasions then these quality earbuds may be the solution.
The 1.3metre length lead ends with circular non magnetic aluminium backs to the silicon earbuds – I think there were eight spare sets of buds – to fit on the face of the buds in various sizes and styles to suit all ear channels.
These buds have a balanced 6mm armature, a frequency response of 10Hz-20KHx, a sound pressure level of >100dB +or- 3dB at 1KHz, impedance 260 +or- 10%, noise attenuation of 26dB, a built in microphone -45dB +or- 5dB, all these figures mean things to experts in a lab but for me I just know that sound was clear, clean and crisp and I heard things on recording that I never knew were there using earbuds.
You or course get the 3.5mm to 5.6mm adapter to connect the earbuds to an audio system as well as an airplane style adapter. I sometimes have problems with earbuds after a couple of hours use as my ear canals do not like being filled but these did not seem to give that problem. Perhaps it's all to do with the quality materials.
The Musical Fidelity EB50 Earbuds are available from the link below for £149 with free delivery.
http://www.amazon.co.uk/gp/product/B0098LMDE8?ie=UTF8&tag=gadge0a-21&linkCode=as2&camp=1634