It's Twilight Time at Pure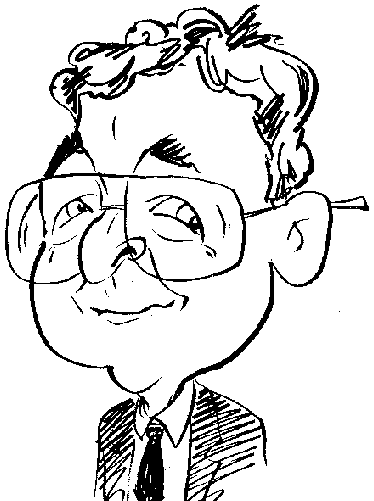 Review controls
DAB radios come in all shapes and sizes including the ET appearance of the BUG. While the Pure Twilight model does not quite fall into the BUG category, its shape does help it stand out from the pack.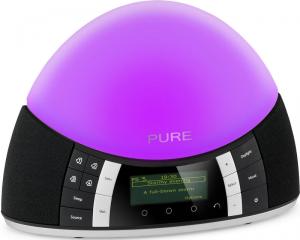 click image to enlarge
My first thoughts on seeing this DAB/FM radio were "was it modelled on the Kilroy graffiti of old or maybe the top half of Humpty Dumpty". The Twilight is a domed shaped unit with a translucent lamp module perched on top of the main radio component and is certainly eye-catching with its modern day styling.
Measuring 360 x 180 x 120mm (W x H x D), the Twilight is a fairly sturdy piece of kit that weighs in at 1.65kg. The predominately black radio module combines plastic and cloth material elements. Taking up a central position on the radio's fascia is a 2.5 x 1 inch, 128 x 64 pixel FSTN LCD display. Up to six lines of information can be displayed on the screen. This information can include the source, signal strength, time, station name, broadcast information and scrolling text. Touch sensitive soft keys run across the bottom of the display.
Either side of this display are matte silver buttons for volume adjustment and navigation/selection. Venturing further outwards are black buttons for sleep, source and setting up four alarms on the left with standby, daylight and mood buttons on the right. Located at the rear of the unit are standard and mini USB ports plus D/C power, AUX in and a 3.5mm jack socket for a headset. Rather than a telescopic aerial, the Twilight uses a wire aerial which needs to be unravelled and positioned to get the best signal.
With a choice of English, French, German or Italian language, the Twilight will automatically search for available digital radio stations. A separate search will be required for FM stations with a strong signal. You will need to use the navigation + and – buttons to seek out the next or previous station. Thirty pre-set slots are available and these can be shared between and allocated to digital and FM stations. A source button allows you to switch between digital and FM radio, a connected AUX device such as an iPod or MP3 player or opt for the lullabies and sound effects that are built into the unit.
When selecting a lullaby for the youngest member of the family bedroom you can select from offerings that include Twinkle Twinkle Little Star, Rock-a-bye-baby and Brahms Lullaby. The supplied sound effects give you choices such as crackling fire, wind chimes, forest ambience and dawn chorus. Both the lullabies and mood sound effects can be used in conjunction with the unit's light element as a means to create a relaxing environment or possible sleep inducement tool.
Making use of six powerful LED lights, the unit's lamp is able to deliver various effects and colour schemes. The light can be set to display a range of mood effects that include those of a fire, ocean, wheat field and a party (not really relaxing) plus a choice of a single colour with a user-definable brightness. The light can work independently from the radio and is capable of responding to touch controls. You can turn the lamp on or off plus adjust its brightness through the use of touch on the lamp's sensitive area around the apex of the dome. The alarm can also be turned off by touch but do not be surprised when it switches back on after nine minutes. This is the default setting.
As mentioned earlier there are four separate alarms that can each have their own specific settings. You can set the precise time, choose from various day allocations and select the source from digital, FM, Sounds or Tone. In addition you set a time during which the lamp will gradually increase its brightness prior to the alarm becoming active. A sleep timer, with various pre-defined time settings, can be achieved to help lull you to sleep.
While the initial setting up of this device is straight forward, I found some of the other controls to be less than intuitive. Fortunately the supplied multi-languages user manual will lead you through the various setting up tasks. Pure has priced this DAB/FM touch lamp unit at £129.99 for a unit that is a little too gimmicky for my taste.
http://www.pure.com/products/product.asp?Product=VL-61504&Category=Bedroom