Sony eBook Reader Pocket Edition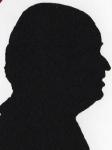 Review controls
Unlike the earlier version of this – that I was ashamed to be seen with in public – I have been happy to be seen reading this in public. In case you are wondering why the first one needed to be used in private it was PINK.
Buy Now!
Sony Reader, Pocket Edition
£149.95 from John Lewis
including free delivery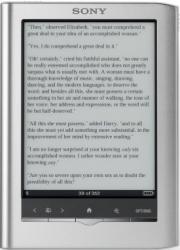 click image to enlarge
The time the Sony Reader, Pocket Edition (PRS-350) is a more normal silver colour. Being a pocket edition the size (or lack of) is important, it is 14x10.5x1cm and it weights 150grams.
Being able to use it outdoors during the winter can test several things, the effect of light and tempreture being uppermost in my mind.
This is E Ink and as such having a page open uses no power at all, the only drain on power is when you turn a page and the new words need to be reprinted on the screen. Of course not having a back light can also cause difficulties.
This can be overcome by the options touch button that offers several choices including brighter and darker as well as custom where you set bars to your own choice of brightness and contrast.
There are six sizes of font available and although my eyes are now those of a pensioner and I do occasionally need a magnifying glass for certain things like small print I found 'S' a perfectly readable choice. The others are XS, M, L, XL and XXL.
The base has a micro USB socket for book transfer and the occasional time it needs a charge and a small reset hole. Both sides are clear a good idea as it could easily be snagged when fitting into a pocket, the back is also clear. The top has the on/off slider and I found it took 15 seconds from switch on the being able to read. There is also a stylus tucked into the top right edge that could be useful if you are wearing gloves while using it.
This leaves the face, below the 9.3x7.8cm viewable screen are five icons on a slight ledge and these are controlled by silvered rod buttons underneath. The unit can allow you to read either in portrait of landscape mode.
Books can be purchased from a range of places and indeed this unit can read not only straightforward books but also PDF offerings but certain things do not work all that well such as maps that changing the font size has no real effect, however the zoom in option will allow you to view just a portion of the map to improve legibility.
These devices can hold thousands of volumes and could be useful for a student who might otherwise have to carry several text books. As the reader has built in dictionaries you only need to tap a word to find out its meaning.
Sony also do a touch edition that is around 30% heavier, however this pocket edition still has some touch features when choices are offered on the screen. The touch edition also has what is stated as a 6inch screen against the 5inch of this model.
As the screen is slightly recessed it should have some small amount of protection from damage in the pocket but I would certainly not put sharp objects in the same pocket. Surely a light fabric bag should have been provided.
There is a Quick Start Guide with the first eight pages in English and this should enable even a novice to get going. The only other item in the box is the 1.2metre micro USB to USB lead that provides battery charge and the ability to add books and PDFs to it.
Doing my Internet searches found the Sony Reader Pocket Edition PRS-350 at £149.95 from John Lewis, including free delivery, on the link below.
http://www.johnlewis.com/231060443/Product.aspx
I found the silver version of the Sony Reader Pocket Edition PRS-350 available for $139 including delivery from one of the Amazon partners on the following link:
http://www.amazon.com/gp/product/B003Z97FOW?ie=UTF8&tag=gadge0a5-20&linkCode=as2&camp=1789
I found the silver version of the Sony Reader Pocket Edition PRS-350 available for €197,38 including delivery from one of the Amazon partners on the following link:
http://www.amazon.fr/gp/product/B00426WZN8?ie=UTF8&tag=gadge04-21&linkCode=as2&camp=1642