Veebeam HD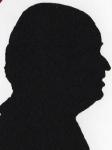 This is a triangular shaped box and a wireless USB dongle that lets you show whatever you can see on your notebook or a PC onto your TV screen, so you can show HD movies, play MP3 content or even use it for work stuff like Powerpoint.

click image to enlarge
Installation was a matter of downloading the software from the Veeebeam site, running it on the PC or notebook and then connecting power to the triangular Veebeam box and finally plug in the USB dongle into a port. Wait a few seconds for them to pair and once your TV is tuned to the correct source you see your PC or notebook screen on the TV.
I used the Composite cables provided and all worked correctly. After a few tests I tried an HDMI cable and there my troubles started. Their technical support is 24:7 so even though this was late Saturday afternoon I started a text chat. After 90 frustrating minutes and two people I was no further forward, it works fine using Composite but I get absolutely nothing not even the Veebeam identification screen when connected using HDMI. After a phone call from Veebeam in the UK and a number of tests it was decided that the HDMI port on the unit was faulty, a replacement was speedily despatched and as soon as I plugged it in it worked straightaway.
There are two modes with this product, Screencaster Mode where your display from your notebook or desktop is duplicated on the TV, much the same as can be achieved should your TV have a VGA or digital port.
The second is far more interesting called Player mode. This enables you to select a range of videos and it will play them on the TV in the order you loaded them in the applet on your computer. If they play on your computer they will play on your TV. It has two other modes Find where your wireless or Ethernet link is used to go onto the Internet for iPlayer, 4onDemand, YouTube and much more. The other mode is called Share, this currently is also doing nothing but plans are afoot and this would involve some social networking sites.
The beauty of the Play mode is that as much of the TV screen as possible is used and your videos play perfectly. Of course having both the composite and HDMI means that HDMI movies get the best resolution and assuming your TV can handle it full HD as most recent cameras and camcorders capture their videos in.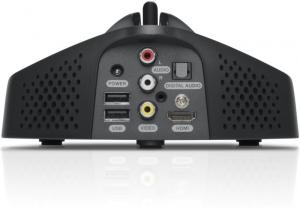 click image to enlarge
The rear of the unit (narrow end of the triangle shape) has three columns of connections, top left the DC input, below this two USB ports – more in a bit – the second column are the three composite sockets. The final column has a Digital Audio socket and the HDMI socket. Any decent standard HDMI cable should work.
The USB ports at the moment only do one job and this is to swap encryption details between receivers (assuming you have more than one) as the encryption used seems quite complex, so don't mix up your USB dongles.
The stated range is up to ten metres I did not get this far maybe only four metres but this enables the PC or Notebook to be in the next room.
Currently the only way to view JPG images or MP3 or other audio is by using the Screencaster mode but updates are under consideration and I am told it is not a hardware problem so this could be just a firmware upgrade.
This is a new company and after the hiccup with the 'chat' support they were very helpful, in Screencaster mode most things are available if your TV has a PC mode or your notebook has an HDMI port. However the Player mode is far more interesting. It will work with Vista or Windows 7 and the instructions say MAC 10.5 or 10.6
Not perfect but version one of anything never is a nice idea. I do have one hate though - the $ to £ conversion, surely it should be somewhat less in the UK. Available for £139.99 for the HD version and for £99 for SD.