Philips Go Gear Digital Audio Player SA2820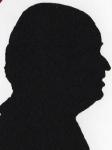 Review controls
This is a tiny MP3 player that also can make voice recordings. Although it is tiny the screen is still very readable and with battery life of close to twenty hours between recharge it certainly has things in its favour.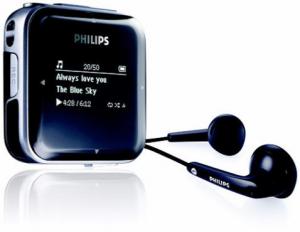 click image to enlarge
Firstly it is small enough to fit in the palm of the smallest hand. It is 4cm wide and tall and only a smidgen over 1cm thick, the weight (before you attach the earbuds) is just 27grams.
The top has on/off and back buttons as well as the 3.5mm jack socket. The right side has the volume up and down buttons and the rather good pin hole microphone. The bottom has the hold slider switch and another pin hole marked reset. The left side has a rubber bung covering the USB socket as well as the Record button and wrist strap anchor point. The back is bare and the front has the 3x2cm monochrome screen. However the whole front is a five way rocker to allow you to do everything like change from one mode to another, very clever.
The display is actually five lines white on black, very easy to read and it even looks bigger as the black matches the background perfectly meaning you cannot really tell where the screen ends. The top line displays icons and the number of tracks in that folder. The second line displays the current track with lines three and four scrolling to display Artist and album, finally line five displays play or pause on the left track number of total tracks in xxx/xxx format in the centre and volume level on the right.
There is some software on a provided CD but I found that just connecting it to a PC enabled you to drag and drop files to or from the unit. I was sent a 2GB unit and this is stated to hold up to 450 songs at an average length, I think this is deemed to be 4 minutes, most pop songs seem to be far less than this and music or classical or my favourite jazz are somewhat longer.
Move to the Settings icon and you have seven options. Play Mode has five options where you choose one (highlighted by a spot in a box) Off, Repeat One, Repeat All, Shuffle All, Repeat and Shuffle. Option two is Sound settings, Volume Limit options are off or set. Equalizer has no less than nine choices, Off, FullSound, Rock, Funk, Jazz, Classical, Hip Hop, Techno and Custom. You probably need to play the output through speakers to appreciate the differences that the Equalizer can give. Next choice is the Backlight timer (I went with the default of 30 seconds) but the other choices are 10 seconds, 60 seconds and always on. The latter will of course reduce battery life between charges. The next options seems a little strange (unless you opt for always on for Backlight timer) and that is Screensaver. Off, Blank Screen or Song Title are the choices. Next option is Information, the first is Memory usage my tests were for xxx files taking a tad under half of the 2GB available at .97GB and something only likely to be of interest should you have a problem and that is Firmware version. Factory settings might also be useful should you have a problem and the choice is to reset or not. Language English (default), French, German, Spanish, Portuguese, Brazilian, Dutch, Swedish, Norwegian, Finnish, Itialian, Polish, Hungarian, Japanese, Korean, Simplified and Traditional as these last two are icons they could be Chinese or Japanese.
There are a pair of earbuds provided and they give a reasonable sound. I have never been a huge fan of in ear offerings mainly because my ear canals do not act well to them. I prefer my own earbuds that hook over the ear but I always test the supplied units for a limited period.
However I also use a range of external speakers, both the numerous range of iPod docks/speakers that have a 3.5mm jack socket and also stand alone speakers. As you would probably expect the better the speakers the better the sound output even from this tiny device.
Doing my Internet searches found the Philips GoGear Digital Audio Player 2GB Go SA2820 at a best price of £28.37, including delivery, from the first link below.
http://www.amazon.co.uk/gp/product/B00170ITVO?ie=UTF8&tag=gadge0a-21&linkCode=as2&camp=1634
http://www.consumer.philips.com/consumer/en/gb/consumer/cc/_language_gb/_productid_SA2820_02_GB_CONSUMER