Two different ways to listen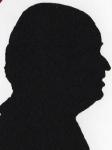 Review controls
The first is hidden inside a standard looking pillow, the second inside a fabric hat. Both allow you to use your favourite iPod or MP3 player to provide the material.
Buy Now!
Sound Asleep Pillow
£29.99 for memory foam
£19.99 for standard
now only £9.99 from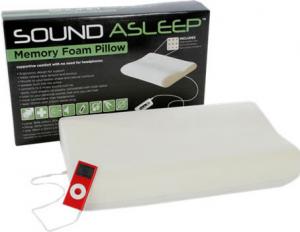 Sound Asleep Pillow
All you need is your iPod or MP3 player plus a pillowcase. Replace your normal pillow with this offering and you can listen to your music without disturbing others, I doubt even most people sleeping in the same room or maybe even in the same bed would be disturbed.
While I suggested iPod or MP3 there is no reason why it should not be a radio or even a portable CD Player. I am told learning works with this method of dropping off to sleep while listening.
The cover is 50% polyester and 50% cotton while the filling is 100% polyester fibre. The speaker is embedded in the pillow and while I thought after a while you would start to feel it in my tests you don't. Mind you I am no princess and this is larger than a pea.
The 3.5mm jack lead is 110cm long and can be removed if required leaving just 6cm emerging from the top corner of the pillow. If in some way you managed to wrap the lead and your music/speech device round your neck the lead should pop out from either the player or the 6cm at the pillow end.
I certainly found it a lot more comfortable than headphones or even earbuds, the sound output was of course a little muffled but it was listenable. I deliberately put this pillow with music playing on one side of the bed (standard double) and with a totally silent room heard almost nothing at all from the next pillow so even your partner need not be kept awake.
Available from www.iwantoneofthose.com at £19.99 or should you prefer the newer memory foam version at £29.99 but I have not tested the latter. There is even a short video on the link below.
http://www.iwantoneofthose.com/sound-asleep-pillows/index.html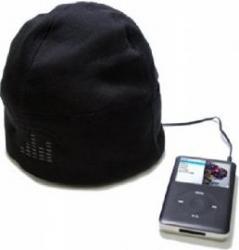 iLogic Sound Hat
Not sure why no one has thought of this idea before, take a normal fabric hat and sew a couple of speakers into the sides, you keep your head warm (great for the follicly challenged) and the black polyester hat looks exactly that. The MP3/iPod can stay safely in your pocket and only the 90cm black lead shows connecting the two.
This is a one size offering and while it did fit it might not have done if I had had a full head of hair. Sound quality was okay and like the previous item maybe slightly muffled but still clear to hear.
In their words 'this beat box beanie is a blast' stated as suitable for eight years plus. It can be washed but it will require a bit of unpicking to remove the speakers and of course sewing up again once washed.
The iLogic Sound hat is available from www.iwantoneofthose.com at £14.99
http://www.iwantoneofthose.com/ilogic-sound-hat/index.html
Remember www.iwantoneofthose.com are currently offering 5% off all purchases to www.gadgetspeak.com readers, see the offers page.