Roberts CRD40 DAB Radio, CD, MP3 *and* SD-card player

Published 1 Nov 2008 Author
petew
A stereo DAB radio that includes a CD player and the ability to play MP3 tracks from SD cards is a great idea. The built in alarm in this particular product makes it ideal for the bedroom!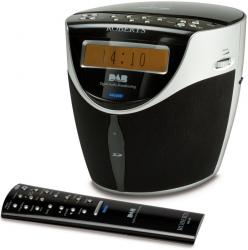 click image to enlarge
On first sight the Roberts CRD40 (Sound 40) has an unusual design being wider at the top than at the bottom - looking a little like a bucket. This isn't to detract from the product in any way and the looks very quickyly grow on you.
Sound is produced by a pair of 76mm speakers giving stereo reporoduction. Quality is on the whole good for a bed-side product or for a childs room. Despite it's small size, measuring 164 x 163 x 212mm (WxHxD), volume is good although there is distortion at the upper end of the range. Bass is somewhat lacking and there's no tone controls - it would have been useful to boost the bass levels.
When you first power up the system it will attempt to locate a radio signal and automatically set the time - an excellent idea, removing the need to set the clock and to remember to change it depending on summer/winter times.
An array of buttons on the top of the unit control all functions. Alternatively a full function remote control is provided.
Radio
One of the first things I noticed when I took the CRD40 out of the box and looked it over was the lack of the standard telescopic aerial - instead a simple trailing wire lead provides this function. Simply leaving the wire trailing led to very poor reception. Reasonable reception was obtained by carefully position the wire, but this generally required the strategic use of a small lump of blue-tak. Not quite sure I understand this particular design choice and it is a definite weakness of this product.
With the aerial carefully placed a good number of stations were located, although not as many as my own DAB radio (which also happens to be Roberts - but with a long telescopic aerial).
As well as DAB you have an FM radio to fall back on if you're in a weak DAB signal area. This conveniently makes use of RDS to display station name.
CD, MP3 and SD-Card playback
Although best known for their radios, this product comes with a few extras that most teenagers will appreciate. Firstly you have a line-in option, suitable for playing back most audio sources, including of course the iPods and other portable music players. The line-in socket, along with headphones, are located rather inconveniently on the back of the unit.
The ability to play directly from SD-Card is an interesting choice. Not only are these cards now ridiculously cheap (checking Amazon a 2G card, capable of holding around 500 tracks now costs as little as £3.48), but their most recent incarnation - the MicroSD card - is now one of the most popular choices for mobile phone memory and often come with an adaptor that will allow playback in products like the CRD40.
With CDs still to be supplanted by on-line downloads it's great to see one included here. As well as traditional audio CDs the CDR40 will happily play MP3 collections from CDs allowing a cheap and simple way of creating music collections and mood-based play lists.
As an alarm clock
A large two line display provides very clear text to even the bleariest of eyes first thing in the morning - and with four separate alarms you should never over sleep again. You can set each alarm to run once, every day, every weekday, every weekend day or every day except Sunday.
For light sleepers, or those that can only sleep in the dark the Sound 40 includes an ambient light detector. As the light in the room falls so does the backlight on the display.
Summary
This is an ideal bedroom alarm clock/radio and also an ideal simple sound system for a childs room. The all-in-one nature of the product means there isn't any separate items to get broken. The wide range of audio options will cover the needs of most people.
The main weakness is the aerial, which accounts for the mark-down in performance smilies, if you live in a weak DAB signal area this may not be the product for you.
The RRP for the Roberts Sound 40 / CDR40 is £99.99, with a best price of £87.99 from Amazon, including shipping this is very good value for money.