Leapfrog Tag - the latest in teaching children to read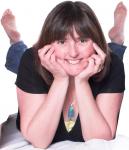 Review controls
Leapfrog have long been in the world of teaching kids to read. Here they use some of the latest page reading technology with their Tag system to make reading interactive and fun. The Leapfrog Tag Reading System is one of the Dream Toys 2008 top 12 pre-school winners.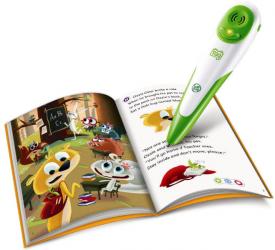 click image to enlarge
Leapfrog make reading interactive with the use of a Tag pen to help read the book and play games. Your child can hold the pen and touch a symbol on the page to read the story to them by the characters in the book, with a signalling sound to tell them when to turn the page. Alternatively they can touch another symbol to have just that page read to them. To aid understanding and memory there are games within the story asking kids to find favourite characters or demonstrate their understanding by pointing to parts of the picture when asked a question.
The stories are cute and the characters are colourful and fun.
In the Ozzie and Mack story I tested, the tale is followed by a series of learning games. There is an alphabet page when pounces the letters and gives examples of words starting with the individual letters. In Ozzie's Rhyme Time Band the kids can point to ryhming words which are read out loud to them. The game that goes with this page asks kids to find words as they are read to them. Tree House Telephone shows children how adding the letter 'e' to words changes them - for example, not to note. River roundup explains more complicated words like a mini dictionary. On each of the game pages there are 3 levels - children work their way through each level. Because the Tag stores what your children have played so far, they can only move up a level once they have mastered the previous one.
The Tag system comes with a CD which loads a program connecting your Tag pen to programs on the Leapfrog website. Here you can dowload stories and receive rewards for using the Tag Reading system. I'm not sure what the rewards are - as clearly I didn't play long enough with my TAG to earn any!!!
I started off unsure about the Tag reading system - as I'm very much one for natural parenting and I'd prefer to play these games with the kids myself rather than relying on technology. However, as I played with the Leapfrog Tag I could see how useful it could be for busy families. These days not everyone has enough time to teach kids to read, or maybe can't think up enough entertaining games to play with the kids to help them. I also know that some kids are very reluctant to be shown what to do by an adult, but are quite happy to sit by themselves learning from this type of technology.
I wasn't enamoured by the internet part of the product and was concerned about entering personal data into yet another website - even though I was assured this was intended to help construct an age appropriate learning plan. I thought the product was good enough on its own not to need the rewards element on the website. It's just a personal opinion, but I really don't think we need to use the internet for everything - including learning how to read.
On balance, my concerns are purely personal and for what it is setting out to do, the Leap Frog does succeed. It's easy for children to understand and very easy to use. The stories are well laid out and beautifully illustrated. The games are well thought through for the intended age range of 4 - 8 years old - though you could start kids on these books earlier than that. I like the fact that there are levels of games to play and so the book continues to be useful as the child reading progresses.
The Leapfrog Tag system can be bought at Amazon for £33.99 and includes your first Tag book.
http://www.amazon.co.uk/LeapFrog-Limited-Firstorder-Account-30704/dp/B00134O7QU
There are more Tag books available from £11.10 on Amazon and include some favourite characters such as Spongbob Square Pants, Cat in the Hat and Kung Fu Panda. A selection is here at Amazon:
http://www.amazon.co.uk/gp/search?y=0&field-keywords=leapfrog%20tag&url=search-alias=aps