Roberts MP-Sound24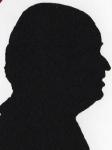 This is a single unit with DAB and FM radio, a CD player and as it also takes SD cards it can playback MP3 and WMA sound files on cards up to 2GB. It also continues from where you stopped playing when you shutdown the previous time.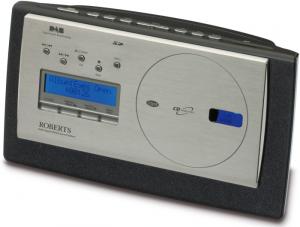 click image to enlarge
The Roberts Sound 24 (MP-24) is 30x17x17cm and weights 3.12kilos. This is mains unit and the mains lead enters back left. Rather surprisingly the DAB aerial is of the wire type exiting back right and it is 60cm in length. Just behind this are two 3.5 jack sockets one for earbuds and the other for Auxiliary input for MP3 or iPod.
The actual controls are nine buttons on the top edge and a further nine above and below the 8x2cm two line display on the angled front of the unit.
Almost everything is duplicated on the 20 key remote control for those unable to move to the unit.
Before switching on for the first time be sure to extend the wire aerial. When you plug it into the mains the first screen says Setting Clock and very quickly you get an accurate time displayed. Then you need to scan for DAB stations, this needs to be done from the unit and not the remote in my case it found 54 stations very quickly. There are ten presets available for DAB but they can be moved through very quickly so not that vital.
Switching to FM is where the ten presets available for FM are likely to be useful as tuning along the FM frequency takes time. Once on a station it will sometimes show the name and sometimes just the frequency. There is a 44 page illustrated manual with some illustrations and you may need it to work out how to set Presets as the action is a little different to some unit.
Moving on to the CD I needed to consult the manual to find out how to insert the CD as it goes behind the front facia that pulls forward to allow insertion or removal. Not only can it play standard audio CD's but also CD's of MP3 files. This unit has a repeat mode, random play and also an intro mode. You can even create a play list.
SD cards are a very easy way to carry a great deal of music around, the maximum size of card accepted is 2GB but that can hold a great number of tracks so if you are playing sequentially you will probably be grateful for Book Mark mode that resumes the next time you switch on from where you left off, this feature also works for CD's.
The Auxiliary socket really just uses the unit as an amplifier and speaker.
There is an equalizer and I suggest you try all the settings till you get one to suit your environment, bass and treble are also adjustable and for those who never have a drop to much the night before an Ultra Bass System but I would not advise this if you have a hangover as the end of the world seems very close.
This is the sort of unit that would sit well by a bed and for that purpose it of course has an alarm mode to be precise five alarms. One off, Daily, Mon-Fri, Mon-Sat and Sat-Sun. Of course it also has a sleep timer so you can nod off while listening to CD, Radio or SD. These can also be set to be your waking agent. There is of course a snooze mode that can be set for 5, 10, 15 or 20 minutes.
When in standby mode you can either have just the time displayed or time on one line and date on the second. You can also adjust the brightness as these units can look amazingly bright in the middle of the night.
Sound quality was good from the pair of 4 ohm tweeters and the 6 ohm woofer in the back as you might expect from a respected name like Roberts.
Doing my Internet searches found the Roberts MP-Sound24 at a best price of £154.39 including delivery from the first link below.
http://www.amazon.co.uk/Roberts-Sound-MP-24-Micro-System/dp/B0010S58K8
http://www.robertsradio.co.uk/Products/DAB_radios/SOUND_24/index.htm