Quality Earbuds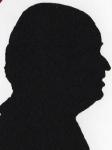 Here I will tell you about two different companies with wonderful earbuds that shall we say are not cheap. In fact both could probably cost more than the unit you plug them into.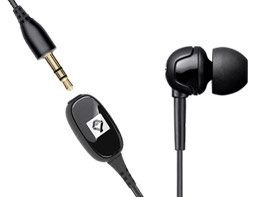 m-JAYS Stereo Handsfree Headset/ Stereo Music Adapter
This can be used two ways. First as a standard set of earbuds and second as a hands free setup that can work with a mobile phone. It is one of the new range of headsets that work with the Apple iPhone.
It is in fact two items that can be used only as earbuds (60cm) or you can plug them into the second longer extension lead (80cm) that has the microphone. This has a small grip clip that can fit to a lapel or tie so phone conversations can be carried out hands free. The leads are both black and while the unit has the larger of two grummet sizes fitted there is another large pair and two smaller pairs provided.
Sound quality was as you would expect excellent both for phone conversations and perhaps more importantly for music. I was especially impressed with the base range. I am not normally a huge fan of in ear offerings as the solid 'stuff it in' of cheaper earbuds tend to irritate my ears. The softer fittings allow them to work more sympathetically with the ear canals. This gives a better sound in the ear and even allows a better range of sound to be captured.
The microphone is a noise cancelling offering so the other party need not be aware of where you are such as on a noisy train. This has advantages for all, first for the other party in that they do not have to strain to hear you, second for you as you do not need to shout and third for everyone else as they are not forced to listen to your conversation.
The m-JAYS stereo headset for Apple iPod is very new but is available from their site. At 31.92 Euros (Swedish Company) they also do models for various mobile phones.
http://www.jays.se/products.aspx?sub=mjays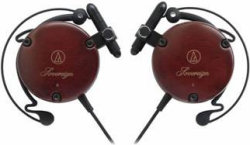 Ear-Fit Headphones ATH-EW9
Anyone reading the review above may be wondering about the price statement in the introduction. Well perhaps you will not after reading about these.
They come with a rather nice soft case about the size of one for glasses. You then need to spend a couple of minutes removing them from the packaging - not plastic but cardboard and once out in the open you see why. The back of each earpiece is wood - yes wood - I am not an expert on trees but I would say red wood (it is actually cherry). Three screws fix this to the central metal (aluminium) part which is sprung and thus pushes the foam inner towards the face of each ear.
The 50cm lead is rubber - not plastic - and of course the fitting is gold plated to get the maximum response. Some might say 50cm is not enough lead - dependant on where you put your MP3 player - so there is a second lead - same quality - that the first one fit's into and this is 100cm so in all you have 1.5metres.
Sound quality is of course stunning. I used a number of tracks that were the same as I do for every set of earbuds, earphones and headsets I review. I can honestly say I heard things that I have never heard before little sounds that often get missed. On an absolutely perfect recording this would of course include a pin dropping.
So - are you sitting down - the price from their site below is £129.95, they do other items aimed at musicians and I intend to ask to see some of these so look for the reviews.
http://www.atheadphones.com/product/18/EW9.htm