Two from Drumond Park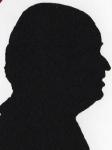 Two games from Drumond Park, the first Bubble Buster aimed at 4+ and the second Lyric aimed at teenagers and adults, so I suppose the latter should not be called a game!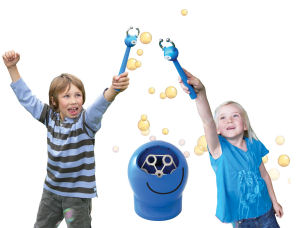 Bubble Buster
It is the old blow a bubble and try to burst it. The difference here is that the bubbles are blown by a machine and you have to burst them with a wand that has two rounded prongs on the end.
It's not just shoving the wand at a bubble it's how you do it as you need to make the wand ping and it will only do so if you connect in the correct way. The object is to get 20 pings, each ping becomes slightly higher.
This is a game for two and it comes complete with the bubble blowing machine, the liquid to go in the machine and the two wands.
In the course of trying to burst the 20 bubbles you will probably burst a great deal more as only the ones that ping count towards the total. When you reach 20 then a winning chime is sounded.
It requires 4x'AA' and 4x'AAA' batteries these are not included. It is possible that a child could play alone against the clock to see how long it takes but I suspect it's always going to be more fun against an opponent.
The secret is to try to hit the bubbles with both prongs and then you are far more likely to get a ping, so perhaps the tortoise can beat the hare.
The price on the link below is £14.99 but it could be available for less.
http://www.drumondpark.com/bubblebuster/index.php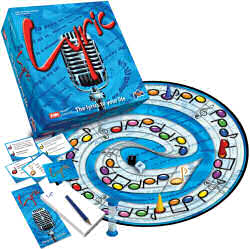 Lyric
This is a board game for anyone who knows their lyrics. It is played on a circular board that is made up with a variety of different coloured musical notes. You move round the board and according to the colour of the note you land on (dice throw) what happens next varies.
There are a total of 500 cards, six playing pieces (you can play individually or in teams) and a forty five second sand timer, this should save arguments as too whether a task was completed or not.
There are three types of question card, Lyric Questions (204), Lyric Performance (204) and Lyric Gold (86).
To play the pieces are placed on the treble clef at the start. The youngest player throws first however these are not normal dice, they do have six faces but one dice has three ones, and a single two, three and four. The other dice has two twos, two threes and two fours.
There are many extra nuances and I enjoyed playing it, you do need knowledge and while the questions and actions required are over around forty years I suppose knowledge of the last twenty five years is likely to win most often.
There are a number of treble clefs around the board and while they do not count as a note when moving round they are where you go back to if someone lands on the note you are one.
I found this fun, and while pop music is not my scene if you play in teams with various age groups it can be great enjoyment.
From the link below it is £24.99 as always could cost less from various store groups.