Belkin iPod items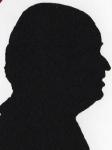 Three items from Belkin all sold as accessories for the iPod. First a clear Acrylic and brushed metal case. Next TuneBase FM that let's you listen to your iPod through your car stereo and finally a dock that allows you to charge and Sync your iPod. Is this iPod heaven?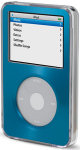 Clear Acrylic and Brushed-Metal Case
The model I was sent works with iPod's with video. The dimensions are 10.5x6.5x1.5cm. The front was blue brushed metal with the rest acrylic apart from the area over the click wheel that is a thinner plastic that enables protection for the wheel while at the same time enabling you to use it. The area over the screen seems to cause no distortion to the image displayed.
This is a nice solid casing without being too heavy as it weights only 26grams.
There are a lot of different models so check for your own the link that looks the same here is from Amazon marketplace (see first link below) it's cheap at £5.99 but remember that P&P applies on Amazon Marketplace no matter how much you spend.
http://www.amazon.co.uk/gp/product/B000NXSDNA
http://catalog.belkin.com/IWCatProductPage.process?Product_Id=372623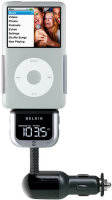 TuneBase FM
These devices have been legal in the UK for around a year. It consists of a small cradle that you fit somewhere convenient in the car probably close to the cigar lighter socket so you also have recharge ability while in use.
A one time scan finds a convenient FM frequency and then you hear whatever is on your iPod through the car stereo. Easy to use and of course the quality of the output is far better than that through earbuds and of course everyone in the car gets to enjoy it.
There are a range of cradle sleeves supplied so it should suit any of the range of iPods on the market.
There are several models all with different part numbers as far as my searches show this seems to be the one I looked at £39.99 from the first link below (£44.67 incl. shipping).
http://www.misco.co.uk/applications/SearchTools/item-details.asp?EdpNo=296503&CatId=1701
http://catalog.belkin.com/IWCatProductPage.process?Product_Id=393427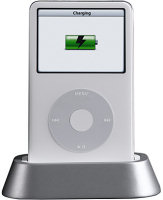 Belkin Power Dock
This enables you to charge and sync your iPod without having to remember to always keep the charge dock in one place. So many people want the ability to update content in more than one location. As an example the office and the home.
How many people grab their iPod and mid way through their journey to work discover that they are nearly out of juice (power) If you have another dock at work it can happily charge while you work.
Of course I am not condoning downloading tracks at work - apart from official breaks of course, and then only with permission - but having a second dock that not only charges but also syncs is a great idea.
It is 11x5.5x2cm silver grey with a white back - where the connections are - and interior. As always there are numerous sleeves so that one size can be made to fit all. However do check the Belkin site to see that your particular model is supported.
This item I could not find on the UK site so the link given is to the Belkin USA site. The price given there is $34.99. If you can get it in the UK for £20 it's a bargain. So far my searches have drawn a blank.
http://catalog.belkin.com/IWCatProductPage.process?Product_Id=371829