Belkin and the iPod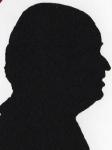 Review controls
Here two different ways to charge your iPod – all types – and just for good measure one of the devices also allows files to be removed or added from the iPod as well.
Buy Now
Belkin TuneSync for iPod
only £30.36 from Amazon

Belkin TunePower for iPod
only £7.46 from Amazon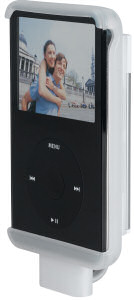 TunePower
First the one that comes in the Blister Pack - strong scissors and gloves required - while these look great on the dealers shelves they are devils to get into.
Any iPod with a dock connector will be able to be charged from this device and if you disconnect the battery from the lead it can give an additional 8-10 hours of use to your iPod. It comes with a range of custom sleeves so your iPod will fit securely.
Connect the unit either to the mains (via optional charger) or more normally though any PC or MAC with a full size FireWire port it then charges both the TunePower and your iPod at the same time.
There is a small five language manual but I doubt that you will need it as everything is very straightforward. If you have a full size FireWire port then this device can give you an extra amount of life away from a PC.
TuneSync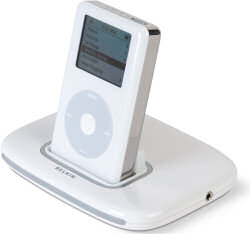 Thankfully this item comes in a standard box, if only for the fact you have got somewhere to keep the spare sleeves for all the other types of iPod that you do not own, a total of nine are supplied.
The base is 14x10x1.5cm in white plastic. The front edge has an LED to denote power. It has four small rubberised feet. The rear has inputs for the mini USB lead and supplied power lead. Between these are five USB2 ports. The right side has a 3.5mm jack plug.
There is a small 16 page manual and the only reason I had cause to look at it was for the purpose of the 3.5mm jack plug, simple really it's so you can play your iPod while it's being charged, just connect your earbuds and listen.
Both the devices do what they say. The first described the TunePower gives anyone with a full size FireWire port the ability to charge both the TunePower and the iPod at the same time and then by disconnecting the TunePower you have another 8-10 hours of battery life, great for those long days travelling.
TuneSync is more likely to be used for those who misplace leads as it gives you the chance to Sync, remove and add tracks to your iPod when the standard lead plays hide and seek. It does have the ability to charge and perhaps with so many peripheral devices a five port USB hub is always useful. Works on both Windows and MAC.
Doing my Internet searches found the TuneSync at a best price of £36.14 inc delivery from http://www.savastore.com/basket/default.aspx
http://catalog.belkin.com/IWCatProductPage.process?Product_Id=255951
Finding TunePower proved harder most prices were £45-£60 but Amazon had it for £19.95 and as far as I could see it is exactly the same product. Check yourself using the product numbers in the Belkin link beyond the Amazon one below. http://www.amazon.co.uk/dp/B0007SQFUY/
http://catalog.belkin.com/IWCatProductPage.process?Product_Id=195130