A Lens Collection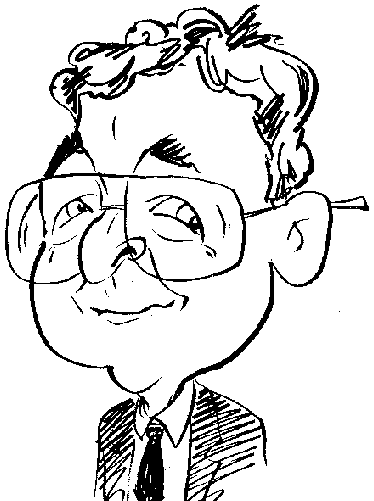 Following on from its Selfie stock product, PNY has developed a lens kit that can be used with various smartphone models.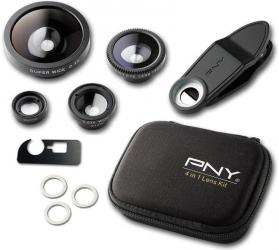 click image to enlarge
According to a recent study, 92% of smartphone users take photos with their device Frankly I would have expected the percentage to have been even higher what with the ever increasing popularity of vanity selfies and the improvements that have been made to the photographic capabilities of today's smartphones Even budget handsets now come with a camera capable of 13MP or better images But even with the increase in the photographic capability of smartphones, users are still demanding greater functionality which PNY hopes to provide with its 4-in-1 Lens Kit.
As its title indicates, this product contains 4 lenses with each one featuring a magnetic connection These lenses can be used to capture Super Wide Angle, Fisheye, Wide Angle and Macro images Unlike some other products currently available offering lens options for a single brand of mobile devices, this PNY offering has the advantage of supporting iOS, Android and Windows handsets using the different methods of connection that form part of the product.
Along with the four individual lenses, which are clearly marked to indicate their particular functionality, this kit contain contains a rigid zipped storage case and a User Guide covering various European languages The storage case contains a number of accessory items to use with the lenses with the supported types of smartphones.
One half of this case is filled with rubberised padding with four cutaway sections Three of these cutaway sections hold the lens caps For some reason the macro lens does not seem to warranty such a nicety The fourth section holds a clip with magnetic capabilities for attaching one of the lenses to certain smartphones.
The other half of this case contains a small black drawstring bag, a small cleaning cloth that appears rather fragile plus a small plastic envelope. Inside the envelope are various mounting fixations to help attach the lenses to a smartphone This collection of items is stored behind a net pocket.
By using a combination of either the magnetic clip or mounting fixations you can attach your choice of lens to a particular smartphone There are three circular units, of different sizes, with each one have a polo-like hole in the middle These are referred to as 'rings' One of the ring units has a small notch cut into it for those situations when the camera lens might be positioned in close proximity to the handset's flash unit There is also a latch-like unit for certain Apple devices Each of these fixation units have a magnetic face and a removable cover revealing an adhesive face so that it can be positioned around th camera lens of the smartphone and then paired with one of the supplied lenses.
The magnetic clip removes the need to permanently stick one of the fixation units to your smartphone The clip has a circular magnetic hole into which the chosen lens can be fitted You can then place the PNY lens over the camera lens which will be held in position by the clip element This method can be a little fiddly as you need to check that you have lined up the two lenses correctly prior to capturing the targeted image.
The Super Wide Angle 0.4x lens, with its short focal distance allows you to capture more width of a scene from a closer distance It can prove useful for landscapes, groups or working in a confined space The Fisheye 180º lens has a short focal length to encompass its 180º field of vision The Wide Angle 0.67x lens, which needs to be used in partnership with the Macro lens, lets you to enlarge the field of vision of your smartphone by almost double Finally the Macro lens allows you to get up really close to your subject matter without loosing any definition I did find that this particular lens required longer bringing the image into focus but the results were good.
Overall I felt this kit was a little too fiddly with the initial set up but it did become easier with practice Generally the achieved results were of a reasonable standard Supplied with a two year warranty, the PNY 4 in 1 Lens Kit has a recommended retail price of £39.99.
http://www.pny.eu/consumer/explore-all-products/mobile-accessories/469-4-in-1-lens-kit