Samsung NX Mini Camera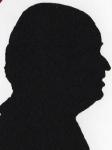 Certainly a small unit, it has a changeable lens but is not in my mind a DSLR unit. In fact my first thoughts on taking it out of the box would not have made pleasant reading but after sorting the problems, I grew to like – verging on - love the Samsung NX Mini digital camera.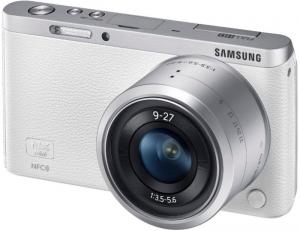 click image to enlarge
During my test period I was lucky enough to get invited to an event half way up The Shard and this provided some amazing images on an autumn evening.
The camera measures 11x6.3x3.3cm and weights 228grams.
It is surprising how used you get to letting the camera do the work and not worrying to much about how close you are to the subject. Here with the fixed 9mm lens you need to move around a bit more or rely on the image and photo manipulation software to give you the image you want after capture.
There is a lot of control on the unit for those who know more, however for the novice user there is also a rather good Auto mode.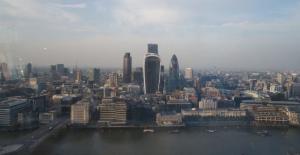 click image to enlarge
When this arrived I think the previous reviewer had done their most to make an image almost impossible by setting all the controls to their maximum or minimum, even when I swapped to Auto and gave it a basic subject the images were poor, over exposed and so bad it was not true. So I went back to basics and found that the lens had been attached incorrectly. Once seated correctly the camera immediately did what it should and made all the right choices.
The front of my unit was coated in a leather like skin in white but I see that pink, brown, turquoise and black are also colour options.
For those of a more recent vintage than myself the selfie is a must and the 8x5cm TFT lifts up from the base and flips 180degrees to allow such images, it also automatically turns the unit on when you do this.
The top has a charge socket under a cover, direct link, On/Off and Shutter Release buttons. The right side has a door which hides micro USB and HDMI sockets as well as micro SD socket and the solid battery. The base has a Tripod screw, the left side is clear.
On the front is the supplied 9mm lens with a thin 1.5cm long flash inbuilt 4.5cm from the lens. This leaves the back with the TFT and to its right a thumb rest and to its right a quick video button. Below these are two pairs of two well marked control buttons with the ubiquitous five position joystick in between them.
This unit can capture 20MP images, it has a 1inch sensor and when the images are studied they are stunning even those taken in Auto mode.
It has NFC capability and you can 'Tap and Share' with other such devices.
For those who want even more there are a range of other lenses available. If you want all the technical details then check the second link.
The Samsung NX Mini is available from the first link below for £269 with free delivery.
http://www.amazon.co.uk/gp/product/B00J1DPHBY?ie=UTF8&tag=gadge0a-21&linkCode=as2&camp=1634
http://www.samsung.com/uk/consumer/smart-camera-camcorder/smart-nx/smart-nx/EV-NXF1ZZB1HGB