D-Link Day/Night Camera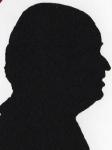 Having looked at several security/surveillance cameras this offering by D-Link seems to offer a lot more out of the box and not only can you view from any PC but also from iPad/iPhone and Android devices and data can be stored in the cloud.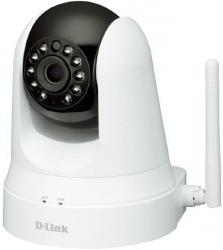 click image to enlarge
The D-Link DCS-5020L web camera can be fitted on the supplied holder or used flat on a surface meaning it is a lot easier to move from place to place.
Without the fitment it is 17cm tall, 12cm wide and 11.5cm deep with power lead inserted. Unlike most other fixed units that you adjust to view at a certain area this can pan and tilt, in fact it can also zoom in all from the 'i' device or Android controls on the viewing screen.
It can be setup to work via Wi-Fi or Ethernet, the latter is near instantaneous while Wi-Fi has around 1.5second delay.
The base of the unit has two LEDs on the front for power and Wi-Fi. The rear has connectors for Ethernet and the DC adapter, there is also a pinhole Reset button and a WPS button for very quick Wi-Fi setup assuming your modem accepts it. Finally on the side (included in the width) is the Wi-Fi aerial which sticks out by 2cm but this is required as it protrudes from the base and otherwise might interfere with the cameras panning.
There are ten infra red lights five around each side of the lens surround that give very clear night views in near total darkness, this is of course in monochrome, however if you set it up to automatically switch if the light is poor you get perfect colour images when there is enough light.
A friend of mine uses one via an 'i' device and I used one via Android and it was possible by using the correct user name and passwords to view content from each others cameras. A great idea if one of you is likely to be away so your friend can keep an eye on your property remotely.
If I have a problem it's that the units inbuilt microphone is too sensitive and it needs to be set very low to avoid feedback.
It takes a while to get used to the controls, on my Android unit they are invisible until you touch the very edges of the screen. Remember the arrows will have a delay – if using Wi-Fi – before they respond. It has six arrows which control pan and tilt and it is a lot easier to understand if you test these in the same room so you can see how the unit reacts, after that you know the length of touch to pan or rotate a certain amount.
There are two slider controls at the base of the image –initially invisible- the left one changes the images contrast and the right one will zoom in. So for example you can initially view say the whole of the baby's room and then zoom into the cot to check it.
I am not suggesting you check remotely from say the office while leaving the baby alone, but I know a lot of parents who might like to check when out for an evening to see that the baby sitter is doing what he/she is paid for and not just watching TV.
While this can be fitted and mounted outside there should be some weather protection as power and possibly Ethernet is entering the unit it is more likely to be used inside and the fact it can rotate pan and tilt means it is easy to control a whole area. While the Android and 'i' device Apps are free they also I am told do a paid version in the case of Android its 69p and this allows you to monitor up to four cameras at the same time should you want or need to.
The D-Link Day/Night Camera DCS-5020L is available from the link below for £174.87 with free delivery.
http://www.amazon.co.uk/gp/product/B00D4EBCHY?ie=UTF8&tag=gadge0a-21&linkCode=as2&camp=1634