Ricoh CX1 Digital Camera

Published Aug 10, 2009 Author
petew
Review controls
The CX1 is the latest in the Ricoh line-up of compact digital cameras aimed at personal use.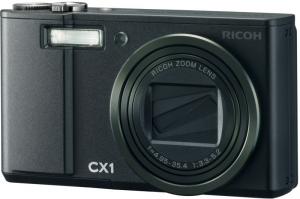 click image to enlarge
The Ricoh CX1 measures approximately 102x58x28mm (WxHxD), almost identical to it's stable mate the R10, reviewed recently. The dimensions are not the only similarity with that model and the CX1 can in many ways be seen as a logical successor.
I've been lucky enough to test this camera over a couple of months including a rather nice holiday in Yorkshire, and being Yorkshire I had the opportunity of trying the unit in most weather conditions and I have been very impressed with the quality of images captured.
The camera comes supplied with a high capacity Lithium-Ion battery, charger, wrist strap, USB and A/V leads. It also comes with a very comprehensive manual comprising some 230+ pages, all in English. While this camera is aimed at personal use, and can indeed be used in a very good point-and-click mode I would highly recommend a detailed read of the manual - not something I'd recommend for many products!
Images are captured by a new CMOS sensor recording 9M pixels - less than the sensor used on the R10, but using a different technology that makes the sensor more sensitive and usable in low-light conditions without resorting to flash.
Focussing the images onto the sensor is a good quality mechanical zoom providing a 35mm equivalent of 28mm wide angle all the way through to a good 200mm telephoto - ideal for everything from landscapes through to portraits. The lens also provides a macro facility allowing you to focus all the way down to 1cm, which did indeed work very well.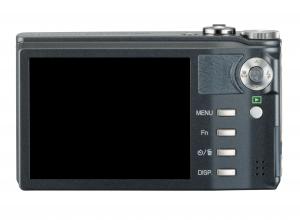 click image to enlarge
Controls are fairly straightforward. The top of the camera has a power button, shutter release with finger controlled zoom and a rotary 'mode' switch. There are eight separate modes, one reasuringly labelled 'Easy'. Others are: auto; scene, allowing a number of pre-programmed options whereby you can drop hints to the camera about the subject you're shooting; movie allowing up to video to be captured at up to 30fps with a resolution of 640x480 pixels; continuous shoot mode allowing up to 120 separate images to be captured in one second; Dynamic Range. The last two modes are labelled MY1 and MY2. Once you've played with the various features of the camera you can use these last two options to store your 'favourite' shooting options. I set one for day-light shooting and one for low-light, no flash images.
On the rear panel is a very bright 3" LCD panel along with 4 buttons, a navigation joystick and a play button. Although my preference is generally for a good viewfinder, especially outdoors, I was impressed with the brightness of the display on this particular camera and found it usable even in bright sunlight, something I've had problems with on other cameras.
Twenty years ago entry level 'serious' cameras were fully manual and you had to balance the aperture and shutter speed to get a good exposure. This could be fiddly but gave complete control over the picture you took. As you paid more you got more automation, either aperture priority or shutter. Pay enough and you could get a camera to balance both for you. Now the lower-end cameras are fully automatic and you have to pay more to get back some control.
Easy mode as the name suggests lets the camera do the thinking for you. In fact the only real settings you can change is the image resolution, whether you want to switch the flash on and whether you want the macro function. That's it. Despite delegating all control to the camera the Ricoh provided very good results in a range of conditions. My main critism was the tendancy to select a low ISO value (geneally 80) even in slightly overcast conditions causing the flash to fire when there really is no nead.
'Auto' is a more usable default mode providing a number of settings. Note that there isn't any real control of aperture or shutter-speed in any mode on this camera which is a pity. Even the most amatuer of photographers understand the concept of depth of field and being able to force a wide aperture for some shots is very desirable and something lamentably missing from most modern personal cameras.
Focus can be either automatic (from which there are a number of options) or manual. I'm pleased that Ricoh have changed the manual focus control so that it uses the joystick rather than over-loading the zoom function as was the case with the R10.
The Dynamic Range mode very cleverly takes two separated pictures when you press the shutter release, each at different exposure settings, and then combines these to form one image. Taking two pictures does however create an effective shutter speed of the sum of each exposure making this function unsuitable for low-light conditions or fast action.
As with most digital cameras I use I feel I've barely scratched the surface of what they can do and I'd definitely question the necessity of many of the options that bloat many of the menus on these cameras. The CX1 does however take very good pictures, which at the end of the day most people want from a camera. As well as taking good still images it can also double up as a good quality video camera.
Checking prices I've found the CX1 available for £222.95 in silver from Amazon, including delivery which is more expensive than comparable cameras, although this is still a fairly new product.
The CX1 available for $349.95 in black from Amazon which is fairly expensive but this is still a fairly new product.
The CX1 available for €303,68 in black from Amazon, including delivery which is fairly expensive but this is still a fairly new product.