Canon Powershot A650IS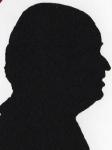 This is a powerful 'intermediate' user camera, more than point and shoot but a step down from a DSLR however it has 6x optical zoom and can take 12mega pixel images.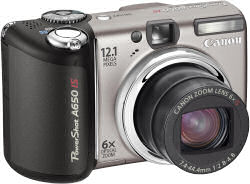 This is not a small unit, but somewhat less in size than a DSLR. It is 11x7x4.5cm and weights close to 400grams with it's 4x'AA' batteries inserted. I found it surprising that such a powerful unit only comes with 'AA' batteries.
The case is silver in colour apart from the right hand side 'the grip' area which is black. Almost all the controls are also in this area. The exceptions are the on/off button just to the left and the Pict Bridge button to the left of the viewfinder. Yes this unit can be used in a conventional way with a viewfinder and as the screen below the viewfinder rotates by 270degrees as found on most recent camcorders there is no need for a nose print on the viewfinder screen. This also negates the need for a case. There is a small 32MB SD card supplied.
I suspect the only reason this is not 16MB is simply because of the space 12MB images take. I am sure that a decent sized card would be supplied but for the likes of the big chains who will of course sell you one at an inflated price when you buy the camera at a less inflated price, swings and roundabouts.
There is a 36 page Getting Started Guide and while this is better than most it is not a manual and certainly the novice user would need to refer to the on CD PDF manual before more than the basics could be mastered. Canon always used to provide full printed manuals.
It is still rare for most digital cameras to go beyond the 3x optical zoom, strange really when camcorders can go 100x plus. It does of course mean that the lens extends a little further in the case of the A650IS this is a further 2cm so the width (4.5cm when off as stated above) goes from 7cm when turned on to 9cm when at full zoom.
This of course makes the use of a tripod (or a stable surface) more likely, it does have an image stabilizer mode and it works quite well but with the longer lens travel it does accentuate the natural hand shake.
Like all modern digital cameras this is capable of taking short movie sequences this is just one of the twelve other settings on the wheel once you have progressed beyond the 'Auto' setting. One test I did was to zoom fully to a page of text and then take an image of a few lines of it on a screen around 60cm away remember all the zoom is prior to taking so the image stabilization works to get a steady image.
12MP is a 4000x3000 image, 8MP is a 3264x2448 image, 5MP is a 2592x1944 image, 2MP is a 1600x1200 image and VGA is 640x480. There is also a postcard 1600x1200 mode and also a Widescreen 4000x2248 mode. Each mode has a superfine, fine and normal compression making 21 different ways a photo can be taken. Movies are either 640x480 or 320x240. So whatever you take invest in at least a 512MB SD card and I would suggest two so if you go away you always have a spare or course far larger cards are available and they have never been cheaper.
I liked the camera especially being able to rotate the screen and for digital still camera man I was impressed by the movie function appearing to show more light availability on a dull day especially when filming indoors.
My one gripe is that it is only plain 'AA' batteries there is an option for rechargeable but the model shown still needs the batteries to be removed to recharge. The one advantage of 'AA' is that you can always just buy a spare set anywhere.
Doing my Internet searches found the Canon PowerShot A650IS at a best price of £237 from the first link below and this is nearly £100 less than the suggested retail price.
http://www.amazon.co.uk/gp/offer-listing/B000V9D6GA
http://www.canon.co.uk/For_Home/Product_Finder/Cameras/Digital_Camera/PowerShot/PowerShot_A650_IS/index.asp