An Impressive PowerShot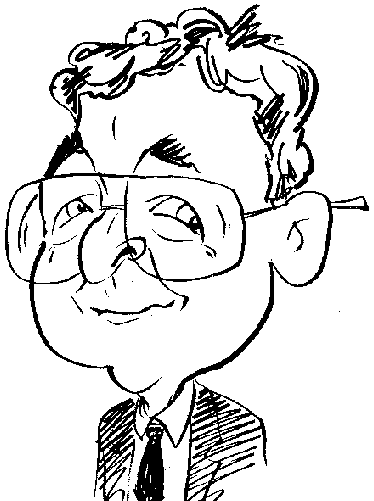 Smile please as Canon's new entry level PowerShot camera blends various technologies into a lightweight body.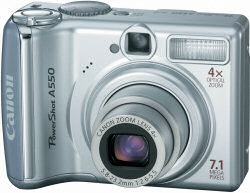 Adding to its already impressive range of digital cameras, Canon has released the PowerShot A550 to replace the A530 model. This is a 7.1 mega-pixel camera that is tastefully decked out in silver lightweight casing and small enough to fit in a pocket without causing too much of an unsightly bulge. The reason for placing the camera in a pocket is that no carry pouch is provided although you do get a wrist strap. Also included in the box are an A/V cable; USB lead for linking to a computer; two AA batteries; 16MB memory card (MMC); plus software and documentation. An optional soft case is available from Canon.
Various technologies have been built into this camera. Canon's purpose built DIGIC II (digital Imaging Core) image processor links the different camera functions for maximum efficiency. Providing the means to optimise key camera settings is the work handled by iSAPS (Intelligent Scene Analysis based on Photographic Space). Also included is Canon's AiAF (Artificial intelligence Auto Focus) scanning technology that can select up to nine subjects within a scene to help ensure accurately focused pictures.
While traditionalists will appreciate the video finder, most users will prefer to take advantage of the 2-inch LCD display for lining up shots and playing back content whether of the still or video clip variety. Generally this LCD screen was great for indoor shots but it did tend to suffer when it had to content with bright sunlight conditions - not as infrequent in this country as you might think. In such circumstances I tended to revert to the traditional view finder.
Situated on the back of the PowerShot A550, alongside the LCD screen, is an array of selection and adjustment controls. These can be used to switch between shoot and playback; print and share content; access the menu; and adjust the various icons and special features that can appear on the LCD screen. The icons can, especially for those not used to them, appear rather confusing but it is an easy matter to remove them for a clear view if you so wish. A navigation wheel allows you to move through the various menu options and make selections. The wheel also doubles as the means to activate the flash, timer, macro and ISO settings.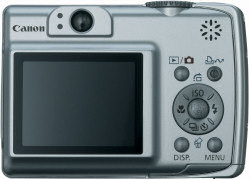 The top of the camera houses the on/off power button which automatically extends and retracts the lens; a wheel to choose the appropriate shooting mode; a lever to set the zoom level; and the shutter button. PowerShot A550 supports a number of shooting modes. You can select from Auto, Portrait, Landscape, Kids & Pets, Night, Indoor and Movie pus a special scene option that can be when foliage, snow, beach, fireworks and night scenes are the order of the day (no pun intended). There are various resolution settings available and these range from 640 x 480 up to 3072 x 2304.
As mentioned earlier, this camera is supplied with two AA batteries and a 16MB MMC card which fit into a compartment accessed from the base of the device. The camera can also accept SD and SDHC cards. This is the first device I have seen that supports this new high capacity version of the SD card. While the number of images being stored on this card will depend on the selected resolution, I was able to capture six images at the highest resolution and 24 images when using the 1600 x 1200 setting. In all cases I was impressed with the quality. The images can be sent direct to a printer via PictBridge; downloaded using the Canon software and a Windows 2000/XP or Mac OS X computer via USB; or access by a card reader. The software bundled with the camera includes ZoomBrowser Ex 5.8 (Windows), ImageBrowser 5.8 (Mac) and PhotoStitch 3.1 (Windows and Mac).
The PowerShot A550 is listed on Canon's website as cost £149 however I have seen it priced elsewhere at much nearer £100. Shop around and you could find yourself an excellent bargain.
http://www.canon.co.uk/For_Home/Product_Finder/Cameras/Digital_Camera/PowerShot/powershot-a550/index.asp