Kodak Easy Share P712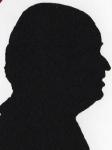 This looks and feels like a very substantial camera, the zoom is good at 12x optical and the image size is 7.1 mega pixel, This is one of two cameras in the Kodak Performance range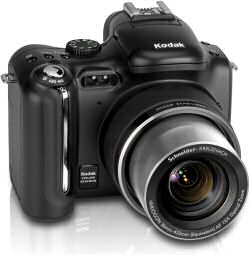 It is 10x12x8cm and weights around 450grams, there is a 5x3.8cm TFT display that dominates the rear of it. When the lens is fully out it increases the width of the unit by 3cm to 15cm. For those who prefer to take images using the viewfinder this protrudes from the rear by a centimetre meaning your nose is not jammed on the TFT.
The top has space to fit an external flash unit however I am pleased to say that the internal flash is well able to deal with all normal requirements something that the tiny unit on the last Kodak offering certainly was not.
Just to the left of the viewfinder are three buttons, first a focus button giving fast access to several items often buried within the menu structure. Then the flash - default is auto - but you can quickly toggle through the options. Thirdly and in exactly the right place just beside the viewfinder the viewfinder/LCD toggle. To the right of the viewfinder is a ten position wheel and three further buttons all clearly labelled as to their purpose. In front of this is the shutter button with a rather fiddly on/off/favourites twist unit that I anyway often twisted to right rather than left.
The right side has anchor point for the lens cover this together with an identical point on the left side can be used for a neck strap. Also on the right side is the door behind which any SD card you may purchase sits. By default the camera is supplied with 32MB of internal memory. The only ways to remove any images you take on this is by connecting to a PC via USB lead or by using the camera dock insert provided should you own a Kodak photo printer.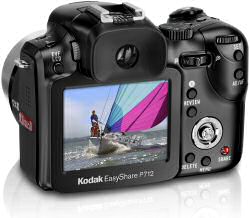 To the right of the TFT there are seven further buttons all well labelled as well as the zoom/wide angle slider and the ubiquitous five position joystick to work within the units capacious menu systems.
The left side has - apart from the neck strap anchor point already mentioned - a rubberised door hiding DC input and A/V outlet. This leaves the base that has a standard tripod screw as well as Li-Ion battery behind a slide and a connection for the photo printer dock.
I was happy with the image I took both in full and partial daylight and those taken using required as well as background flash. The Schneider Variogon lens 36-432mm (35mm equivalent) lens gave good depth. Not having access to higher than A4 printers means I enlarge portions of images taken at the highest 7.1 mega pixel mode to look for and flaws and I could not find any. In fact I am rather proud of some images taken with more or less maximum zoom once you stabilize the camera. It does have a built in stabilizer ring but if you can find something solid to rest the unit on results are even better.
If you connect to a PC please note you will need Windows XP or Windows 2000 SP4 it also states MAC OS 10.3 or higher. However with memory cards being so cheap - I recently purchased a 512MB one for less than £10 - this and a card reader are to my mind the easiest and quickest way to transfer images.
Apart from the normal JPG you can also take images in RAW and TIFF. Of course all digital cameras today can be used as basic camcorders (640x480 at 30FPS) and this unit is no exception and in fact on camera video editing is possible. A lot of extra styles including panoramic mode with on camera stitch mode.
Doing my Internet searches found this at best price of £242.48 including delivery from the first link below. http://www.rankhour.com/details.php?pid=1451013002407003&caid=2&cbid=9&ccid=62
http://www.kodak.com/eknec/PageQuerier.jhtml?pq-path=7382&pq-locale=en_GB&_requestid=2411