FujiFilm Finepix F30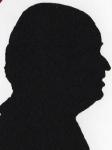 Review controls
Certainly a camera small enough to fit in any pocket or purse and while it is supplied with a woefully inadequate memory card it does come with a case as standard.
Buy Now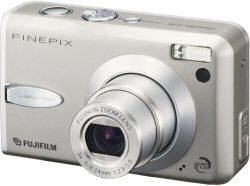 It is 9x5.5x2.5 but the width extends from 2.5cm to 6cm with the lens extended. The weight is around 200grams. All this means it is easy to fit into the palm of an adult hand.
This is a 6.3mega pixel camera with 3x optical zoom that is various shaded of silver. Just for a change lets start with the back this is dominated by the 5x4cm TFT display and to the right of this are six buttons and a five position wheel. The base has an anchor point for a tripod and the battery cover that not only holds the rechargeable battery but also the XD card. The left side has a rubber bung over the micro USB lead and A/C charger. The right side has an anchor point for a wrist strap. The front has the Fujinon zoom lens and flash. The lens is covered when turned off. Finally the top that has the power button, the shutter release and a six position wheel to choose shot type. You can have a virtual tour of the camera from the final link at the end of the article.
I found the battery life very good and I see it is claimed to be 580 shots, I charged the unit when it arrived and despite taking lots of photos - a lot with flash - I never came near needing a recharge. However should you take a lot of images in bright sunlight be warned there is no viewfinder - impossible at it's size - so the TFT can need to be shaded and in strong light that's not easy.
I was more than happy with the quality of images I took not only at the highest resolution as I find that the second size has enough information to give me an A4 image and I never need more than that. However I always take some images at all the available resolutions.
The available resolutions are 6MP F, 6MP N, 3:2, 3MP, 2MP and.3MP the latter normally called VGA. The number of shots available on the supplied 16MB XD card for the resolutions as given above are 5, 10, 10, 19, 25 and 122. These figures are the cameras best guess as the amount of information in images vary greatly so you could easily only find that 4 images at the highest level is all you could take. You can of course mix and match. However I would suggest at least a 256MB XD card is an immediate requirement.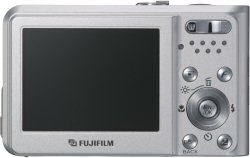 Anyone needing to shoot in low light the ISO capability goes up to a staggering 3200, so any setting between 100-3200 is possible, however the shake factor will certainly come in - even for the young fit user - and if you wish to take images at high ISO setting you will need a tripod or a least a very firm surface to shoot from.
You can take images with confidence in the 'auto' mode but as you progress you can advance to manual mode and another feature this unit has is an excellent flash so no bleached out images with non existent backgrounds.
The case supplied is simple it has a belt loop so can always be handy for that shot that comes up with little warning. You certainly need a case to protect the TFT as otherwise it will soon get scratched in a pocket of bag. During my test period I had it in my shoulder bag when I had it and on the occasions I did not it was in my trouser pocket.
This is a nice camera likely to be a camera suitable for an intermediate user, someone who has progressed beyond point and shoot but still with things to learn, maybe as a stepping stone to an more expensive offering. Doing my Internet searches found it at a best price of £165.99 including delivery from the first link below.
http://www.shopping4cameras.com/products/details.cfm?PRODUCT=N077840A

http://www.fujifilm.co.uk/digital/cameras/f30/?lpage=/digital/cameras/range.php