Canon Inkjet Multi Function MX395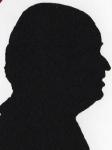 This is four items in one, it prints, scans, copies and for those who still use it Faxes. It is not that large but still has an ADF (Auto Document Feeder) as well as a flatbed. Everything on the unit is driven by buttons and the small display.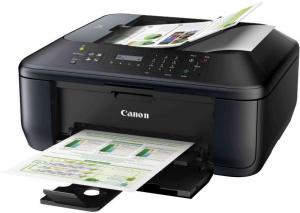 click image to enlarge
The Canon Inkjet Multi Function MX395 measures 43x43x23cm this is with both input and output trays lowered and paper in the 100 sheet input tray.
It seems the fashion now to have to manually lower the output tray which if you want to print or copy a quick single page can be a pain to remember as after a few seconds you get a reminder on the screen to lower the output tray.
Inkjet printers used to be notorious – some manufacturers were worse than others – about claiming speeds that were not possible. Now however as they all use the same test sheets the claimed speeds and actual speeds are very close. Just remember that tests are normally conducted in draft/fast mode and that the main test sheet is very like a short – very short – letter of around 200 words. In this mode I got close to 11PPM. The other thing to remember is that they never count the first or last page and their figures never include the time between you pressing enter on your PC and the printer starting to print.
Printing a more normal 1500 word document was a little slower at a tad under 10PPM this was spread over four pages. The actual claimed mono print speed is less than 9PPM and in colour just over 5PPM.
A 15x10cm borderless colour photograph prints in under 50seconds and just over 2½minutes for an A4 version.
There is no duplex unit so double sided printing has to be manually completed.
This is a two cartridge (four ink) unit and in my tests on photo paper I was quite happy with the output.
The stated output is given in pages per cartridge but as far as colour goes this assumes all colours are used equally which never happens. The black is stated to last 180 pages as is the colour. However larger capacity cartridges are available which are stated to give 600 black pages and 480 colour pages. All this depends of course on the amount of dots (all characters are made up of small dots) that you place on a page.
You can set the unit to copy between 1-99 pages and these will take around three to a minute for multiple copies. There is of course both reduction (down to 25%) and increase (up to 400%) available.
Scanning is possible up to 1200x2400DPI and OCR is included in My Image Garden that is part of the software included. I found that the software took just over 12 minutes to install (Windows 7) and used around 500MB of hard disc space. You can install via USB, Wi-Fi or Ethernet.
The ADF is said to support up to 30 pages.
For anyone who wants a reasonable small unit to print, copy, scan and possibly to fax then this unit is worth consideration. Less than £50 for a multi function unit is good value.
The Canon MX395 is available from the first link below for £48.81 with free delivery.
http://www.amazon.co.uk/gp/product/B00BECLSU4?ie=UTF8&tag=gadge0a-21&linkCode=as2&camp=1634
http://www.canon.co.uk/For_Home/Product_Finder/Printers/Inkjet/PIXMA_MX395/