HP Colour Laser MFP M177fw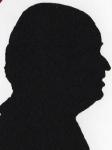 This is a Multi-Function Device in that it can print, scan, copy and for those who still use it fax. Unlike the recent offering that was monochrome this is colour and of course somewhat larger but in real terms really not that much larger.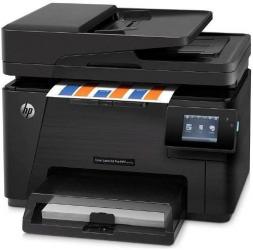 click image to enlarge
The HP Colour Laser MFP M177fw measures 42x41x32cm, the only figure that needs a little more space is the last one if you are raising the lid on the flatbed, but as there is a rather good sheet feed then you only really need the flatbed to copy pages from books or magazines.
The paper input tray is at the base and paper is inserted face up, it is delivered from the output shelf just under the scanner face down.
All the connections power/network/USB/phone are back left.
A 12x7cmlift up display has all the units' controls three items either side of the 6x4.5cm TFT display. At the right side top edge is an illuminated touch button to turn the unit on/off.
This unit can be connected via Wi-Fi, Ethernet or USB. I choose the middle option but I suspect those with 'other halves' will choose Wi-Fi as it can hardly be described as beautiful.
The setup used around 180MB of hard disc space and took around five minutes.
The paper tray at the base is easy to access even if it is place on the floor and has a clear plastic lid to allow you to see when paper is low or empty before something refuses to print as there is no paper. The output is face down on to a shelf 21cm above the base of the unit but if printing a long document be around to gather the pages as otherwise they can topple off and get the order muddled.
A laser always seems to print at the speed stated so the 16PPM applies to both the nonsensical 200 word document and the more normal 1500 word test offering that is printed over four pages. Another test is a full colour PDF offering spread over eight pages and this mix of text and graphics printed in 100 seconds.
While photographs are not usually printed on a laser I do for testing purposes and for comparison to those output on inkjets. It took 30 seconds to print an A4 image.
Copying is of course done from the unit and a simple front screen on the display is great for the standard settings, 21 seconds for a full colour copy and 14 seconds for a monochrome one.
A single icon is created on your Desktop for perhaps the best and easiest scan interface I have ever seen. There are six one stop selections for what will probably be everyones normal scan options. The choices are Save as PDF, Save as JPG, E-Mail as PDF, E-Mail as JPG, Save as Editable Text (OCR) and Everyday Scan.
The choices on the right side of the Window change as you select different choices but are still changeable by you on a one off case.
The default is to show a preview (tick box) and you can scan from flatbed (single side) or sheet feeder (single side) or scan from sheet feeder (both sides). All these choices are on a single screen and takes seconds to select.
A colour PDF can be previewed and saved in around 10seconds and from this preview page you are able to instantly adjust the brightness and contrast with sliders.
This is a very easy to use colour laser MFU and the scan options are a joy to use certainly one for a very short list of choices.
The HP MFP M177fw is available from the link below for £249.99 with free delivery.
http://www.amazon.co.uk/gp/product/B00HLXY8Z2?ie=UTF8&tag=gadge0a-21&linkCode=as2&camp=1634